LATEST NEWS.


Pacman reaction on Mayweather instagram post
By Aquiles Z. Zonio, PhilBoxing.com, Fri, 03 Jul 2015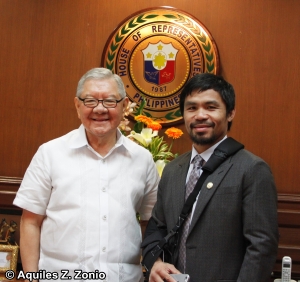 MAKATI – "A real champion is gracious both in his words and conduct. Someone who is a champion not just in his chosen field of endeavor but even in his own home and private life." This was the reaction of world eight-divis Read Full Story >>>

"Catchweight": Good or Bad for Boxing?
By Ralph Rimpell, PhilBoxing.com, Fri, 03 Jul 2015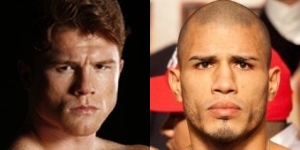 Over Four weeks ago WBC middleweight champion, Miguel Cotto, successfully demolished Daniel Geale in 4 rounds to retain his title. In a post fight interview, HBO analyst Max Kellerman asked Cotto if he was a true middlew Read Full Story >>>
WBC PRESIDENT SULAIMAN PAYS HOMAGE TO ALEXIS ARGUELLO THEN PRESENTS NICARAGUA'S PRESIDENT WITH A GREEN AND GOLD BELT
By Ronnie Nathanielsz, PhilBoxing.com, Fri, 03 Jul 2015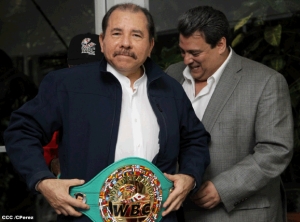 World Boxing Council president Mauricio Sulaiman has paid homage to Nicaragua's all-time great boxing champion Alexis Arguello and then met with Nicaragua's president Daniel Ortega Saavedra and presented h Read Full Story >>>
EFREN 'BATA' REYES WEAVES HIS MAGIC TO WIN ACCU-STATS 'MAKE IT HAPPEN; ONE POCKET INVITATIONAL
By Ronnie Nathanielsz, PhilBoxing.com, Fri, 03 Jul 2015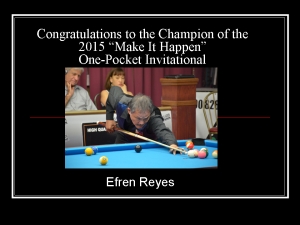 Efren "Bata" Reyes, unquestionably the greatest pool player of all-time, wove his magic once again to win the prestigious Accu-Stats 'Make It Happen" One Pocket Invitational last weekend at Sandcastle Billiards in New Read Full Story >>>
Mickey Bey backs out of Shafikov fight, vacates lightweight world title
By Dan Rafael, ESPN.com, Fri, 03 Jul 2015
Although Mickey Bey signed a contract to go to Macau, China, to make a mandatory defense of his lightweight world title against Denis Shafikov on July 18, he has backed out of the fight and the title is now vacant. Officially, Bey relinquished the 135-pound belt, but the IBF was poised to strip h Read Full Story >>>
WBO Waits For Mayweather's Decision, Tim Bradley Looms
By Miguel Rivera, BoxingScene.com, Fri, 03 Jul 2015
Less than 24 hours remain for Floyd Mayweather Jr. (48-0, 26KOs), who has until the close of business on Friday to make a decision regarding the welterweight championship of the World Boxing Organization (WBO). Mayweather captured the title on May 2 from Manny Pacquiao. Mayweather holds the WBC/W Read Full Story >>>
The World vs. Al Haymon
By Robert Ecksel, Boxing.com, Fri, 03 Jul 2015
I'm not sure when words stopped having meaning, but until triple-talk becomes the new normal, doubletalk, in all its reassuring familiarity, with have to do… "We don't have a monopoly. Anyone who wants to dig a well without a Hughes bit can always use a pick and shovel."—Howard Hughes Can anyo Read Full Story >>>
Chatman: 'I will massacre Biosse!'
PhilBoxing.com, Fri, 03 Jul 2015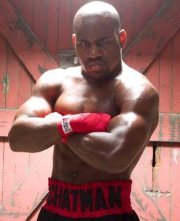 Outspoken Chatman offers stern warning to Biosse in anticipation of July 17th showdown LINCOLN, R.I. (July 2nd, 2015) -- A fight nearly two years in the making will finally come to fruition Friday, July 17th, 2015 as super middlewe Read Full Story >>>
Undefeated 20-Year Old Prospect Mario Barrios Returns July 18 in El Paso Texas
PhilBoxing.com, Fri, 03 Jul 2015
SAN ANTONIO, TX (July 2, 2015) - 20-year old unbeaten super-featherweight sensation, Mario Barrios (9-0, 5 KOs), returns to the ring against an opponent TBA July 18, 2015. The 8-round bout will take place in Barrios' home state at the Don Haskins Convention Center in El Paso, Texas on the Julio Ces Read Full Story >>>
Special July 11 Golden Boy Fan Fiesta Celebration at Los Angeles Memorial Sports Arena from 1-6pm
PhilBoxing.com, Fri, 03 Jul 2015
CALLING ALL BOXING FANS! SPECIAL FREE FAN FIESTA CELEBRATION FEATURING LIVE MUSIC, FOOD TRUCKS, GOLDEN BOY FIGHTERS, BEER GARDEN AND MORE AT THE LOS ANGELES MEMORIAL SPORTS ARENA ON JULY 11 OLYMPIC GOLD MEDALISTS PAUL GONZALES AND HENRY TILLMAN TO ATTEND SPECIAL FAN MEET AND GREET ALSO, Read Full Story >>>
Weights for M-1 Challenge 59 in Kazakhstan
PhilBoxing.com, Fri, 03 Jul 2015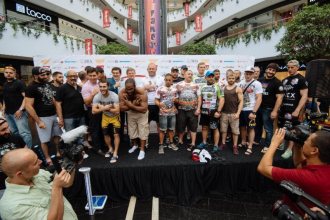 M-1 Challenge 59: Battle of Nomads 5 WATCH LIVE ON M-1GLOBAL.TV OFFICIAL WEIGHTS MAIN CARD HEAVYWEIGHT SUPER FIGHT - 5 X 5 SERGEI "The Paratrooper" KHARITONOV (22-5-0), Russia 277 1/ lbs. (126 kg) KENNY "Deuc Read Full Story >>>
Boxcino 2015 champions Andrey Fedosov and John Thompson crack world rankings
PhilBoxing.com, Fri, 03 Jul 2015
Philadelphia, PA (July 2, 2015)--The two champions from the 2015 Boxcino tournament, Heavyweight Andrey Fedosov and Jr. Middleweight John Thompson have each entered the world rankings on the strength of their tournament wins. Fedosov (28-3, 23 KO's) of Russia defeated Donovan Dennis by 8th round Read Full Story >>>
Floyd Mayweather rolling in Manny Pacquiao dough, but more work beckons
By Lance Pugmire, Los Angeles Times, Fri, 03 Jul 2015
Floyd Mayweather Jr. has massive amounts of cash to count, but the fun is nearly over. With Mayweather previously committed to keeping his Sept. 12 date for the sixth and final fight of his incredibly lucrative deal with Showtime, the process of selecting his next opponent is at hand. Showtime Read Full Story >>>
Arum lawsuit signals death knell to Mayweather-Pacquiao rivalry
By Leo Reyes, Digital Journal, Fri, 03 Jul 2015
The lawsuits filed by boxing promoters Bob Arum of Top Rank Promotions (TR) and Oscar de la Hoya of Golden Boy Promotioins (GBP) could effectively end the Mayweather-Pacquiao rivalry and signal the death knell for boxing. Arum and De la Hoya's lawsuits stemmed from alleged schemes from Floyd Mayw Read Full Story >>>
Mayweather can be beaten like any fighter, says Hunter
By Victor Salazar, Tha Boxing Voice, Fri, 03 Jul 2015
When the names Andre Berto and Karim Mayfield were dropped as possible Mayweather opponents in September for what might be Mayweather's last possible fights, many reporters weren't taking Mayweather serious. But Mayweather fired back comparing such a fight to when Manny Pacquiao faced Chris Algieri. Read Full Story >>>
Lomachenko moving on from Walters
By Dan Rafael, ESPN.com, Fri, 03 Jul 2015
Although Nicholas Walters easily outpointed Miguel Marriaga on June 13 in an HBO main event at the Theater at Madison Square Garden in New York, the win did not come without a price. The day before the bout Walters was a pound over the featherweight division limit of 126 pounds and was stripped o Read Full Story >>>
Cotto-Alvarez weight set at 155; likely date Nov. 7 or Nov. 21
By Dan Rafael, ESPN.com, Thu, 02 Jul 2015
The much-anticipated fight between middleweight champion Miguel Cotto and former unified junior middleweight titleholder Canelo Alvarez will take place this fall, although Cotto promoter Roc Nation Sports and Canelo promoter Golden Boy are still hashing out the particulars on the specific date and v Read Full Story >>>
Nietes' Mexican foe makes self scarce
By Nick Giongco, Tempo, Thu, 02 Jul 2015
Mexican challenger Francisco Rodriguez Jr. is keeping himself out of the public eye in the runup to his shot at Donnie Nietes' world light-flyweight crown next week in Cebu. Filipino promoter Michael Aldeguer, who is staging the July 11 battle between Nietes and Rodriguez at the Waterfront Hotel, Read Full Story >>>
Top Rank lawsuit might end any chance of a Mayweather vs. Pacquiao rematch ever happening
By Jenna Jay, OTR Boxing Radio, Thu, 02 Jul 2015
The future of a Mayweather vs. Pacquiao rematch took a major hit yesterday, as Top Rank, the promotional company headed up by legendary promoter Bob Arum filed a 100 million dollar lawsuit against adviser/manager Al Haymon. The lawsuit also includes Waddell & Reed, a Kansas City, Missouri-base Read Full Story >>>
Pacquiao feeling better, may be back in ring in 2016–Arum
By Randolph B. Leongson, Philippine Daily Inquirer, Thu, 02 Jul 2015
Top Rank promoter Bob Arum said he expected eight-division boxing world champion Manny Pacquiao to see action again in the first half of 2016. In a report on ESPN, the long-time kingmaker gave an update on Pacquiao as the boxer continues his recovery from surgery in his right shoulder to repair a Read Full Story >>>
Pacquiao shows up for launch of Binay party, but noncommittal on political plans
By Rhoel V Fernandez, Spin.ph, Thu, 02 Jul 2015
IS Manny Pacquiao running for higher office in the 2016 elections? The eight-time boxing world champion was present at the Makati Coliseum for the party launch of the United Nationalist Alliance (UNA) on Wednesday, fueling speculation that Pacquiao will be running for a seat in the country's Sena Read Full Story >>>
Thou shall not help foul up PH boxing
By Recah Trinidad, PhilBoxing.com, Thu, 02 Jul 2015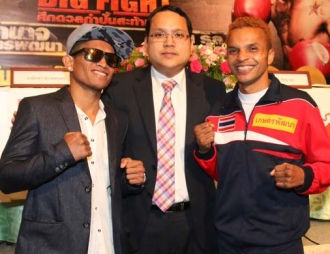 IT was not only former world light flyweight champion Johnriel Casimero who was fooled and fouled all night long in Bangkok on Saturday. There was a bigger victim in the scandalous IBF flyweight championship: Phili Read Full Story >>>
NBA Free Agency -- Davis agrees to $145 million deal, Love stays with Cavs
By Eugene Nepangue, PhilBoxing.com, Thu, 02 Jul 2015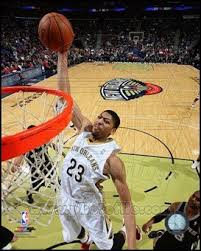 Davis. CHARLOTTE -- The NBA's 2015 free agency season officially began on July 1 and the New Orleans Pelicans wasted no time to keep Anthony Davis with the team long term According to multiple reports, including ESPN Read Full Story >>>
Cotto, Canelo reviewing November dates, no venue set yet
By Phil D. Jay, World Boxing News, Thu, 02 Jul 2015
The hugely-anticipated middleweight title clash between champion Miguel Cotto and challenger Canelo Alvarez is set to go ahead in November, according to the WBC title holder's advisor. Rumours had recently surfaced that a definite date of November 21 had been agreed on between the talented pair, Read Full Story >>>
LAWYERS FOR AL HAYMON RESPOND TO TOP RANK LAWSUIT; SAY IT'S "BASELESS" AND "CYNICAL"
FightHype.com, Thu, 02 Jul 2015
Earlier today, the law offices of Kramer Levin Naftails & Frankel, who represent Al Haymon, released the following statement in regards to the antitrust lawsuit filed today by Top Rank Inc. STATEMENT FROM KRAMER LEVIN NAFTAILS AND FRANKEL On behalf of our clients Alan Haymon, Haymon Boxing L Read Full Story >>>
Op-Ed: Mayweather-Pacquiao saga continues with mockery outside the ring
By Leo Reyes, Digital Journal, Thu, 02 Jul 2015
Two of the world's richest celebrities continue to dominate the sports and entertainment headlines with their continuing saga that seems unstoppable as they trade barbs, sneer and poke fun at each other to keep their popularity rating on top of the charts In most recent sports and entertainment h Read Full Story >>>
STATEMENT FROM GOLDEN BOY PROMOTIONS FOUNDER AND CHAIRMAN OSCAR DE LA HOYA ON TOP RANK'S LAWSUIT AGAINST AL HAYMON
PhilBoxing.com, Thu, 02 Jul 2015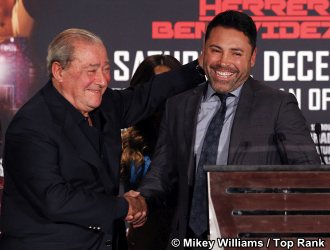 LOS ANGELES, (July 1, 2015) - Golden Boy Promotions Founder and Chairman Oscar De La Hoya released the following statement today in the wake of Top Rank Boxing's lawsuit against Al Haymon and his affiliated entities. "I Read Full Story >>>
Boxer Peter Quillin -- Calls B.S On Bob Arum ... You're Lying About Al Haymon
PhilBoxing.com, Thu, 02 Jul 2015
TMZ SPORTS -- Boxer Peter "Kid Chocolate" Quillin says Bob Arum is spewing LIES about him in Arum's $100 MILLION lawsuit against Al Haymon -- with Quillin saying Haymon is not the monster Arum is making him out to be. As we previously reported, Arum's Top Rank boxing promotions company is suing H Read Full Story >>>
Floyd Mayweather: Next fight options for September
By Jason Leach , Fight Saga, Thu, 02 Jul 2015
September 12th is scheduled to be the day Floyd Mayweather stages his 49th and presumably final professional fight - and it's just eleven weeks away. Speculation has been rampant on who will win the 'Floyd Mayweather Sweepstakes.' Based on scheduling and promotional and network conflicts, the Read Full Story >>>
Report: Floyd Mayweather's Fight of Century earnings to hit $220 million
By Sean Wagner-McGough, CBS Sports, Thu, 02 Jul 2015
The total value of Aaron Rodgers' contract to play quarterback with the Green Bay Packers is worth up to $110 million. Of that total, Rodgers is fully guaranteed to see only $54 million. I say "only" because when comparing how much money Rodgers is making over the course of several seasons to how mu Read Full Story >>>
Boxing promoter Bob Arum sues Floyd Mayweather's manager, Al Haymon, for $100 million
By Mitch Abramson, New York Daily News, Thu, 02 Jul 2015
Manny Pacquiao may have lost his super fight with Floyd Mayweather Jr. on May 2. But Pacquiao promoter Bob Arum and his company, Top Rank, Inc. , are trying to inflict a legal blow to the chin of Mayweather manager Al Haymon in the form of a blistering 50-page anti-trust lawsuit that was filed in Read Full Story >>>
Top Rank lawsuit claims manager Al Haymon is plotting boxing monopoly
By Lance Pugmire, Los Angeles Times, Thu, 02 Jul 2015
Established boxing promoter Bob Arum and his company Top Rank Inc. on Wednesday announced a legal fistfight to test powerful boxing manager Al Haymon's Premier Boxing Champions operation. Seeking more than $100 million in damages and an injunction to stop Haymon's "predatory practices" in a 50-pa Read Full Story >>>
Introducting Nonito Donaire Sr.'s latest pupil, undefeated welterweight prospect Rudy Macedo
By Chris Robinson, Hustle Boss, Thu, 02 Jul 2015
Nonito Donaire Sr. is no stranger to talent. With his son Nonito Donaire, having established himself as a can't-miss star in the sport in recent times, the elder Donaire has been able to watch first-hand just how impactful some of his practices and teachings are. As he continues to ply his cr Read Full Story >>>
The All-Time Bantamweight Tournament
By Cain Bradley, Boxing.com, Thu, 02 Jul 2015
The bantamweight who is generally considered the greatest of all time by boxing commentators faces the most unique bantamweight of all time… People often try and compare fighters of different eras by discussing who is the greatest. One way to do this is to rank fighters by who achieved the mo Read Full Story >>>
Floyd Mayweather keeps beef with Manny Pacquiao alive in bizarre Instagram post
By Marissa Payne, Washington Post, Thu, 02 Jul 2015
It's been two months since Floyd Mayweather beat Manny Pacquiao by unanimous decision in 12 rounds. And while most people have already forgotten about the snooze-fest of a fight, Mayweather can't seem to let it go. On Wednesday, the 38-year-old fighter with the perfect record reminded the world he's Read Full Story >>>
Pacquiao named Letran Knights team manager
By Nissi Icasiano, Rappler, Thu, 02 Jul 2015
MANILA, Philippines – Colegio de San Juan de Letran has found a new high-profile patron for its basketball team's bid in the ongoing NCAA Season 91 tourney. Eight-division boxing champion Manny Pacquiao has been named the Letran Knights' team manager. The Intramuros-based school unveiled the b Read Full Story >>>
ARUM SUES HAYMON FOR $100 MILLION
PhilBoxing.com, Thu, 02 Jul 2015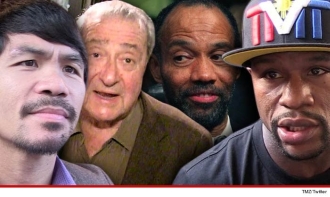 TMZ SPORTS -- Manny Pacquiao's manager Bob Arum is declaring war on Floyd Mayweather's promoter -- claiming the guy is "rigging the boxing industry" ... and taking aim at everyone, including Jay Z ... this according to a lawsu Read Full Story >>>
Sparks will fly July 17th as Biosse faces Chatman
PhilBoxing.com, Thu, 02 Jul 2015
CES kicks off the summer with the return of 'Mr. Providence' July 17th at Twin River Casino LINCOLN, R.I. (June 30th, 2015) -- The snow is gone, our long, cold winter has ended, and summertime is finally here, which means CES Boxing is once again bringing the heat with an action-packed show guara Read Full Story >>>
Melson to meet with WBC at Convention in San Francisco!
PhilBoxing.com, Thu, 02 Jul 2015
New York, NY (July 1, 2015) – WBC-USNBC junior middleweight champion Captain Boyd "Rainmaker" Melson has been personally invited by WBC President Mauricio Sulaiman to their NABF convention this weekend in San Francisco, CA. A close friend and supporter of the WBC Cares Program long before captur Read Full Story >>>
Winning only option for Villanueva
By Edri Aznar, Sun.Star Cebu, Thu, 02 Jul 2015
THERE is no other option but to win. That's unbeaten Arthur Villanueva's frame of mind going into the biggest fight of his career so far. Villanueva doesn't care if he's treading on unknown soil to fight one of the top super flyweight prospects in the world. All he thinks about is achieving a Read Full Story >>>
Warlito Parrenas ready for 'war' in first title shot
By Ryan Songalia, Rappler, Thu, 02 Jul 2015
MANILA, Philippines - Warlito Parrenas has competed overseas enough to know why they call it a "hometown advantage." He fought as an amateur around Asia as a member of the Philippine national boxing team and knows that getting the judges' approval on foreign soil is never a given. It's the reaso Read Full Story >>>
Pacquiao vs. Marquez 5: Not Dead Yet?
By Dennis Cruz, The Boxing Tribune, Thu, 02 Jul 2015
Juan Manuel Marquez has told the world several times already that he's closed the chapter on his rivalry with Manny Pacquiao after a sixth round knockout of the Filipino Icon back in December of 2012. But things change in boxing, and given the ways the stars have aligned for both Hall of Fame supers Read Full Story >>>
Mayweather slaps 'Pacquiao' dummy, says stop lying about injury (video)
By Phil D. Jay, World Boxing News, Thu, 02 Jul 2015
Floyd Mayweather Jr brought back some old beef via his Instagram account this week as the world number one was playing around with a punch dummy at a gym store. The 38 year-old, who is set to announce his September 12 opponent in the coming days, pretended Pacquiao was in front of him and questio Read Full Story >>>
DANNY GARCIA CONFIDENT MOVE TO 147 WILL MAKE HIM BETTER, STRONGER, AND IMPROVE HIS PERFORMANCES
By Ben Thompson, FightHype.com, Thu, 02 Jul 2015
"It feels great. For the first time in a long time, I could worry about training to get better and not training to lose weight," stated undefeated jr. welterweight champion Danny Garcia, who talked about his upcoming August 1 clash with two-division former world champion Paulie Malignaggi. Although Read Full Story >>>
Is that Pacquiao enjoying a meal inside cramped room? Boxing hero explains
By Snow Badua, Spin.ph, Wed, 01 Jul 2015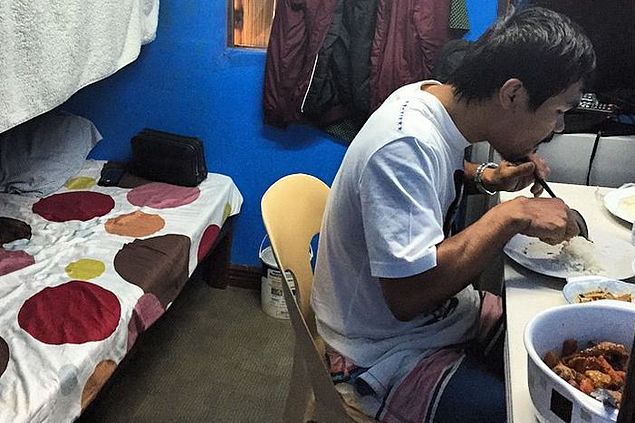 ARCH-RIVAL Floyd Mayweather routinely posts photos of his rows of luxury cars, enormous wealth and lavish lifestyle; Manny Pacquiao plays up his love for the simple life. The stark contrast in t Read Full Story >>>
Moralde makes ring comeback July 11
By Lito delos Reyes, PhilBoxing.com, Wed, 01 Jul 2015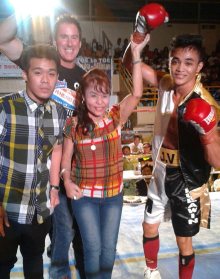 REIGNING World Boxing Council (WBC) Asian Boxing Council Continental featherweight champion John Vincent "Mulawin" Moralde of Davao City finally makes a ring comeback to fight Fil-American William "Black Slugger" Georg Read Full Story >>>
Manny Pacquiao gears up for serious post-surgery rehab
By Leo Reyes, Digital Journal, Wed, 01 Jul 2015
Eight-division world champion Manny Pacquiao is set to fly to the US in a few days to see his orthopedic surgeon for post surgery check-up following his shoulder injury while on training and during his fight against Floyd Mayweather last May 2. While recuperating from recent surgery, Pacquiao is Read Full Story >>>
Filipino super flyweight Bruno Escalante returns August 1st
PhilBoxing.com, Wed, 01 Jul 2015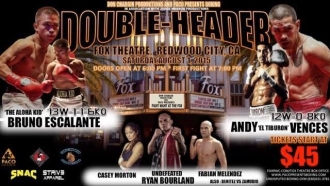 Though no official bouts have been announced the August 1st card in Redwood City, CA is taking shape as junior bantamweight Bruno "The Aloha Kid" Escalante (13-1 6KOs) returns after nearly a year and half layof Read Full Story >>>
Six Boxers Risk Their Undefeated Records In ShoBox: The New Generation Quadrupleheader - Friday, July 17 at 10p ET/PT
PhilBoxing.com, Wed, 01 Jul 2015
Antoine Douglas Faces Istvan Szili In Main Event On The 14th Anniversary Of Prospect Developmental Series, Live At 10 p.m. ET/PT Telecast Jump-Starts Big Weekend of Fights on SHOWTIME and PBC on CBS NEW YORK (June 30, 2015) – The popular and respected prospect-oriented developmental boxing se Read Full Story >>>
GILBERTO GONZALEZ TO TAKE ON NEW OPPONENT HEVINSON HERRERA IN THE MAIN EVENT FOR JULY 2 LA FIGHT CLUB LIVE ON FOX DEPORTES
PhilBoxing.com, Wed, 01 Jul 2015
LOS ANGELES (June 30) - Kicking off the Fourth of July holiday weekend, LA FIGHT CLUB is sure to provide fireworks the ring at the historic Belasco Theater for the July 2 edition of the fan-favorite fight series in downtown Los Angeles. Due to illness, previously scheduled main event fighter John Read Full Story >>>
"KUMBINASYON"


Filipino boxing legend Manny Pacquiao resumes his regular column at PhilBoxing.com and now Bandera to express his own thoughts and to be able to communicate to his fans worldwide.


Latest posts from the Forum...
Philippine time (GMT +8)

New members, please read the FORUM RULES before you post.
Not yet a member? Click HERE to register.


Romy Nabas: Cotto-Alvarez at 155 lbs; WTF, Everyone Is Catchweathering!, 6:25 pm, 07-03-15



marinduque: Cotto-Alvarez at 155 lbs; WTF, Everyone Is Catchweathering!, 6:16 pm, 07-03-15



Babyface: Mayweather: "the Philippines is fucked up", 6:13 pm, 07-03-15



joeyj: * PROJECT World's Top 5- ELO 2800: GM Wesley So PHI *, 6:12 pm, 07-03-15



Blaster08: Pacman Reaction after gayflower instagram post, 6:11 pm, 07-03-15



Babyface: Top Rank sues Haymon, 6:03 pm, 07-03-15



redhorse: Mayweather: "the Philippines is fucked up", 5:46 pm, 07-03-15



Blitzky22: Cotto-Alvarez at 155 lbs; WTF, Everyone Is Catchweathering!, 5:27 pm, 07-03-15



boypisot: Timothy Bradley vs Jessie Vargas fight replay, 5:16 pm, 07-03-15



yobfloria: watch boxing fights replay, 5:11 pm, 07-03-15



Blitzky22: Cotto-Alvarez at 155 lbs; WTF, Everyone Is Catchweathering!, 5:05 pm, 07-03-15



Blitzky22: Cotto-Alvarez at 155 lbs; WTF, Everyone Is Catchweathering!, 5:03 pm, 07-03-15



lagako10: Pacman Reaction after gayflower instagram post, 4:49 pm, 07-03-15



greenbackz: MAYWEATHER SLAPS DUMMY MANNY FOR LYING ABOUT INJURY, 4:30 pm, 07-03-15



gritsteel2: Cotto-Alvarez at 155 lbs; WTF, Everyone Is Catchweathering!, 3:43 pm, 07-03-15



butchogeez: Pacman Reaction after gayflower instagram post, 3:40 pm, 07-03-15



dominic: Cotto-Alvarez at 155 lbs; WTF, Everyone Is Catchweathering!, 3:17 pm, 07-03-15



phlebotomist: TKO Martin Murray vs George Beroshvili Fight Replay, 3:09 pm, 07-03-15



rudscar: Top Rank sues Haymon, 3:09 pm, 07-03-15



rudscar: Top Rank sues Haymon, 2:58 pm, 07-03-15



Haiyan: Count Down Manny Pacquiao next fight, 2:57 pm, 07-03-15



Haiyan: Count Down Manny Pacquiao next fight, 2:57 pm, 07-03-15



JudgeHenryVerniz: Pacman Reaction after gayflower instagram post, 2:24 pm, 07-03-15



lagako10: Pacman Reaction after gayflower instagram post, 1:26 pm, 07-03-15



kahuynon712: Manny staying humble despite earning $160M from last fight, 1:09 pm, 07-03-15



BaksingPan: Cotto-Alvarez at 155 lbs; WTF, Everyone Is Catchweathering!, 1:06 pm, 07-03-15



StraightShooter: Manny staying humble despite earning $160M from last fight, 12:16 pm, 07-03-15



JoeyInCali: Cotto-Alvarez at 155 lbs; WTF, Everyone Is Catchweathering!, 12:13 pm, 07-03-15



Junorz: Cotto-Alvarez at 155 lbs; WTF, Everyone Is Catchweathering!, 12:05 pm, 07-03-15



Durian Peña: Count Down Manny Pacquiao next fight, 12:01 pm, 07-03-15



Durian Peña: Mayweather: "the Philippines is fucked up", 11:58 am, 07-03-15



cactus_factus: Cotto-Alvarez at 155 lbs; WTF, Everyone Is Catchweathering!, 11:57 am, 07-03-15



phillyboxing: Gonzalez stops Herrera in 3, 11:49 am, 07-03-15



Blitzky22: Cotto-Alvarez at 155 lbs; WTF, Everyone Is Catchweathering!, 11:36 am, 07-03-15



Blitzky22: Cotto-Alvarez at 155 lbs; WTF, Everyone Is Catchweathering!, 11:31 am, 07-03-15



Blitzky22: Cotto-Alvarez at 155 lbs; WTF, Everyone Is Catchweathering!, 11:27 am, 07-03-15



Blitzky22: Cotto-Alvarez at 155 lbs; WTF, Everyone Is Catchweathering!, 11:25 am, 07-03-15



Retz: Diego De La Hoya stops Estrella in 4, 11:21 am, 07-03-15



phillyboxing: Diego De La Hoya stops Estrella in 4, 11:15 am, 07-03-15



renego77: * PROJECT World's Top 5- ELO 2800: GM Wesley So PHI *, 10:58 am, 07-03-15



zakk wylde: Top Rank sues Haymon, 10:53 am, 07-03-15



zakk wylde: Top Rank sues Haymon, 10:49 am, 07-03-15



Retz: Negrete decisions Robles, 10:48 am, 07-03-15



phillyboxing: Negrete decisions Robles, 10:47 am, 07-03-15



tagapagkatay: 10 reasons why Manny Pacquiao is the simplest man alive, 10:36 am, 07-03-15



jhon515: Manny staying humble despite earning $160M from last fight, 10:29 am, 07-03-15



genetophile: Pacquiao: I have 10,000 angels, 10:29 am, 07-03-15



platinum: 10 reasons why Manny Pacquiao is the simplest man alive, 9:55 am, 07-03-15



listerine: 10 reasons why Manny Pacquiao is the simplest man alive, 9:50 am, 07-03-15



Pacwan: 10 reasons why Manny Pacquiao is the simplest man alive, 9:45 am, 07-03-15



listerine: Manny staying humble despite earning $160M from last fight, 9:43 am, 07-03-15



whinz: * PROJECT World's Top 5- ELO 2800: GM Wesley So PHI *, 9:28 am, 07-03-15



pogiako111: Shitty PLDT Connection, 9:25 am, 07-03-15



Pancho Pantera: 10 reasons why Manny Pacquiao is the simplest man alive, 9:12 am, 07-03-15



phillyboxing: Jolene Mizzone Named NABF Matchmaker of the Year, 9:08 am, 07-03-15



noel3393: Pacquiao: I have 10,000 angels, 8:50 am, 07-03-15



Retz: BOXCINO 2015 CHAMPIONS ANDREY FEDOSOV AND JOHN THOMPSON CRAC, 8:48 am, 07-03-15



Retz: WBA Lightweight Champion Darleys Perez Attended "New Blood", 8:48 am, 07-03-15



Retz: Cotto vs alvarez is on, 8:47 am, 07-03-15



noel3393: Mayweather: "the Philippines is fucked up", 8:42 am, 07-03-15



LAUGHINGMAN: Cotto vs alvarez is on, 8:37 am, 07-03-15



rudscar: Top Rank sues Haymon, 8:08 am, 07-03-15



Butcher: Manny staying humble despite earning $160M from last fight, 7:30 am, 07-03-15



butchogeez: Manny staying humble despite earning $160M from last fight, 7:27 am, 07-03-15



PadreDamaso: Manny staying humble despite earning $160M from last fight, 7:20 am, 07-03-15



tagacapitolio: Manny staying humble despite earning $160M from last fight, 7:16 am, 07-03-15



tagacapitolio: Manny staying humble despite earning $160M from last fight, 7:10 am, 07-03-15



PadreDamaso: Top Rank sues Haymon, 7:01 am, 07-03-15



rudscar: Top Rank sues Haymon, 6:40 am, 07-03-15



rudscar: Top Rank sues Haymon, 6:34 am, 07-03-15



Haiyan: Count Down Manny Pacquiao next fight, 5:55 am, 07-03-15



HYNRE: Manny staying humble despite earning $160M from last fight, 5:53 am, 07-03-15



Pacwan: Manny staying humble despite earning $160M from last fight, 5:33 am, 07-03-15



Pacwan: Top Rank sues Haymon, 5:28 am, 07-03-15



FearNoEvil: Top Rank sues Haymon, 3:59 am, 07-03-15



phillyboxing: BOXCINO 2015 CHAMPIONS ANDREY FEDOSOV AND JOHN THOMPSON CRAC, 3:39 am, 07-03-15



phillyboxing: WBA Lightweight Champion Darleys Perez Attended "New Blood", 3:35 am, 07-03-15



phillyboxing: Fight Network Presents M-1 Challenge 59, RFA 27 LIVE this Fr, 3:20 am, 07-03-15



phillyboxing: THE CHASE FOR THE BELLATOR MMA HEAVYWEIGHT TITLE HEATS UP WI, 3:18 am, 07-03-15



phillyboxing: GH3 Promotions signs undefeated Jr. Lightweight O'Shanique F, 3:07 am, 07-03-15



JCOOL2329: Top Rank sues Haymon, 3:03 am, 07-03-15



JCOOL2329: Cotto vs alvarez is on, 3:01 am, 07-03-15



phillyboxing: Undefeated 20-Year Old Prospect Mario Barrios Returns July 1, 2:58 am, 07-03-15



phillyboxing: 16 year-old German talent Bauer ready for ring return on Jul, 2:46 am, 07-03-15



HYNRE: Manny staying humble despite earning $160M from last fight, 2:10 am, 07-03-15



Pacwan: Manny staying humble despite earning $160M from last fight, 1:33 am, 07-03-15



butchogeez: Pacquiao: I have 10,000 angels, 12:47 am, 07-03-15



butchogeez: Pacquiao: I have 10,000 angels, 12:45 am, 07-03-15



coyadev: Pacquiao: I have 10,000 angels, 12:36 am, 07-03-15



phillyboxing: Louis Norman issues come-and-fight-me plea to Kevin Satchell, 12:27 am, 07-03-15



phillyboxing: Top Rank sues Haymon, 12:26 am, 07-03-15



lagako10: Cotto vs alvarez is on, 12:17 am, 07-03-15



zeke_gabriel: Cotto vs alvarez is on, 11:47 pm, 07-02-15



Pancho Pantera: Floyd and Al, they're the unambiguous agents of fraudness!, 11:34 pm, 07-02-15



Pancho Pantera: 10 reasons why Manny Pacquiao is the simplest man alive, 11:33 pm, 07-02-15



phillyboxing: WSOF 22 Adds Lightweight Bout To Live NBCSN Telecast, 11:28 pm, 07-02-15



phillyboxing: UFC® SUPERSTARS, UFC HALL OF FAMERS AND LEGENDS CONFIRMED FO, 11:26 pm, 07-02-15



zeke_gabriel: Cotto vs alvarez is on, 11:23 pm, 07-02-15



zeke_gabriel: Cotto vs alvarez is on, 11:21 pm, 07-02-15



phillyboxing: HBO SPORTS® PRESENTS A SUMMER FESTIVAL OF ACCLAIMED BOXING P, 10:55 pm, 07-02-15



phillyboxing: PAULIE MALIGNAGGI, DANIEL JACOBS, HEATHER HARDY & TRAVIS, 10:51 pm, 07-02-15



phillyboxing: STATEMENT FROM GOLDEN BOY PROMOTIONS FOUNDER AND CHAIRMAN OS, 10:47 pm, 07-02-15



alseth: Pacquiao: I have 10,000 angels, 10:45 pm, 07-02-15



phillyboxing: Plethora of Northeastern Talent Completes "Bellator: Lima vs, 10:42 pm, 07-02-15



Junorz: Manny staying humble despite earning $160M from last fight, 10:16 pm, 07-02-15



noel3393: Pacquiao: I have 10,000 angels, 8:39 pm, 07-02-15



noel3393: Pacquiao: I have 10,000 angels, 8:36 pm, 07-02-15



CPK-MB: MAYWEATHER SLAPS DUMMY MANNY FOR LYING ABOUT INJURY, 8:34 pm, 07-02-15



LahingMagiting: EFREN's new incredible shots!!!, 7:36 pm, 07-02-15



friedrice: MAYWEATHER SLAPS DUMMY MANNY FOR LYING ABOUT INJURY, 7:17 pm, 07-02-15



HYNRE: Manny staying humble despite earning $160M from last fight, 6:52 pm, 07-02-15



luckycat: EFREN's new incredible shots!!!, 6:22 pm, 07-02-15



Gavino Ang: EFREN's new incredible shots!!!, 5:49 pm, 07-02-15



FunkyDog: EFREN's new incredible shots!!!, 4:38 pm, 07-02-15



tiguwang: MAYWEATHER SLAPS DUMMY MANNY FOR LYING ABOUT INJURY, 4:35 pm, 07-02-15



FunkyDog: Mayweather: "the Philippines is fucked up", 4:33 pm, 07-02-15



noel3393: Mayweather: "the Philippines is fucked up", 4:24 pm, 07-02-15



FunkyDog: PARIS HILTON PLANE PRANK IN DUBAI IM GOING TO DIE!! LOL, 4:21 pm, 07-02-15



superlike: PARIS HILTON PLANE PRANK IN DUBAI IM GOING TO DIE!! LOL, 4:18 pm, 07-02-15



FunkyDog: Manny staying humble despite earning $160M from last fight, 4:03 pm, 07-02-15



superlike: MAYWEATHER SLAPS DUMMY MANNY FOR LYING ABOUT INJURY, 3:56 pm, 07-02-15



superlike: Manny staying humble despite earning $160M from last fight, 3:51 pm, 07-02-15



LahingMagiting: * PROJECT World's Top 5- ELO 2800: GM Wesley So PHI *, 3:49 pm, 07-02-15



noypinga: Manny staying humble despite earning $160M from last fight, 3:49 pm, 07-02-15



LahingMagiting: MAYWEATHER SLAPS DUMMY MANNY FOR LYING ABOUT INJURY, 3:48 pm, 07-02-15



noypinga: Manny staying humble despite earning $160M from last fight, 3:46 pm, 07-02-15



noypinga: Manny staying humble despite earning $160M from last fight, 3:45 pm, 07-02-15



noypinga: MAYWEATHER SLAPS DUMMY MANNY FOR LYING ABOUT INJURY, 3:42 pm, 07-02-15



tiguwang: Manny staying humble despite earning $160M from last fight, 3:38 pm, 07-02-15



JCOOL2329: MAYWEATHER SLAPS DUMMY MANNY FOR LYING ABOUT INJURY, 3:36 pm, 07-02-15



phlebotomist: Miguel Cotto vs Daniel Geale Full Fight Replay, 3:20 pm, 07-02-15



Blaster08: MAYWEATHER SLAPS DUMMY MANNY FOR LYING ABOUT INJURY, 3:01 pm, 07-02-15



BGKFans4Ever: EFREN's new incredible shots!!!, 2:37 pm, 07-02-15



JoeyInCali: MAYWEATHER SLAPS DUMMY MANNY FOR LYING ABOUT INJURY, 2:29 pm, 07-02-15



BaksingPan: MAYWEATHER SLAPS DUMMY MANNY FOR LYING ABOUT INJURY, 2:21 pm, 07-02-15



BaksingPan: Manny staying humble despite earning $160M from last fight, 2:19 pm, 07-02-15



seekwatee: Manny staying humble despite earning $160M from last fight, 1:37 pm, 07-02-15



Dodong Alicaba: MAYWEATHER SLAPS DUMMY MANNY FOR LYING ABOUT INJURY, 12:18 pm, 07-02-15



Blitzky22: Floyd and Al, they're the unambiguous agents of fraudness!, 12:14 pm, 07-02-15



coyadev: Pacquiao: I have 10,000 angels, 12:12 pm, 07-02-15



gwapo123: John Riel Casimero vs Amnat Ruenroeng Full Fight Replay Vide, 12:05 pm, 07-02-15



CanadianMan: PARIS HILTON PLANE PRANK IN DUBAI IM GOING TO DIE!! LOL, 12:04 pm, 07-02-15



gwapo123: Timothy Bradley vs Jessie Vargas REPLAY VIDEO, 12:04 pm, 07-02-15



phlebotomist: Video: Mayweather vs Pacquiao HBO-Showtime Coverage, 12:03 pm, 07-02-15



CanadianMan: PARIS HILTON PLANE PRANK IN DUBAI IM GOING TO DIE!! LOL, 11:48 am, 07-02-15



cactus_factus: MAYWEATHER SLAPS DUMMY MANNY FOR LYING ABOUT INJURY, 11:22 am, 07-02-15



cactus_factus: Manny staying humble despite earning $160M from last fight, 11:21 am, 07-02-15



addseo2015: The Real Story Behind Pacquiao vs Mayweather (Documentary), 11:10 am, 07-02-15



ragnarok: PARIS HILTON PLANE PRANK IN DUBAI IM GOING TO DIE!! LOL, 10:53 am, 07-02-15



listerine: PARIS HILTON PLANE PRANK IN DUBAI IM GOING TO DIE!! LOL, 10:42 am, 07-02-15



dominic: PARIS HILTON PLANE PRANK IN DUBAI IM GOING TO DIE!! LOL, 10:34 am, 07-02-15



CanadianMan: Should Pacman find a new trainer after he returns?, 10:25 am, 07-02-15



dominic: Should Pacman find a new trainer after he returns?, 10:20 am, 07-02-15



butchogeez: MAYWEATHER SLAPS DUMMY MANNY FOR LYING ABOUT INJURY, 10:07 am, 07-02-15



usman: MAYWEATHER SLAPS DUMMY MANNY FOR LYING ABOUT INJURY, 10:00 am, 07-02-15



whinz: Manny staying humble despite earning $160M from last fight, 9:52 am, 07-02-15



Pacwan: Manny staying humble despite earning $160M from last fight, 9:49 am, 07-02-15



whinz: * PROJECT World's Top 5- ELO 2800: GM Wesley So PHI *, 9:45 am, 07-02-15



whinz: PARIS HILTON PLANE PRANK IN DUBAI IM GOING TO DIE!! LOL, 9:43 am, 07-02-15



8 in 8: PARIS HILTON PLANE PRANK IN DUBAI IM GOING TO DIE!! LOL, 9:31 am, 07-02-15



arckey: 10 reasons why Manny Pacquiao is the simplest man alive, 9:06 am, 07-02-15



8 in 8: MAYWEATHER SLAPS DUMMY MANNY FOR LYING ABOUT INJURY, 9:04 am, 07-02-15



genetophile: Manny staying humble despite earning $160M from last fight, 9:03 am, 07-02-15



8 in 8: Manny staying humble despite earning $160M from last fight, 8:55 am, 07-02-15



listerine: PARIS HILTON PLANE PRANK IN DUBAI IM GOING TO DIE!! LOL, 8:53 am, 07-02-15



Retz: PARIS HILTON PLANE PRANK IN DUBAI IM GOING TO DIE!! LOL, 8:08 am, 07-02-15



joeyj: * PROJECT World's Top 5- ELO 2800: GM Wesley So PHI *, 7:44 am, 07-02-15



Lifer: Pacquiao: I have 10,000 angels, 7:36 am, 07-02-15



Tata Lino: MAYWEATHER SLAPS DUMMY MANNY FOR LYING ABOUT INJURY, 6:44 am, 07-02-15



blackholesun: Manny staying humble despite earning $160M from last fight, 6:37 am, 07-02-15



jhon515: MAYWEATHER SLAPS DUMMY MANNY FOR LYING ABOUT INJURY, 6:37 am, 07-02-15



thinker_twister: Manny staying humble despite earning $160M from last fight, 6:36 am, 07-02-15



JoeyInCali: Manny staying humble despite earning $160M from last fight, 6:35 am, 07-02-15



Pacwan: Manny staying humble despite earning $160M from last fight, 6:20 am, 07-02-15



CanadianMan: Manny staying humble despite earning $160M from last fight, 6:00 am, 07-02-15



CanadianMan: Should Pacman find a new trainer after he returns?, 5:13 am, 07-02-15



Boxingvoice: Virgil Hunter On Mayweather vs Berto Doesn't Feel Media Disr, 5:02 am, 07-02-15



Boxingvoice: Virgil Hunter High Praise for Sammy Vasquez Feels Barthelem, 4:55 am, 07-02-15



Boxingvoice: Virgil Hunter On Ward vs Golovkin and Kovalev What Weight an, 4:52 am, 07-02-15



Boxingvoice: Luis " Cuba" Arias On His Roc Nation Debut KO and Return htt, 4:33 am, 07-02-15



crispyfry: Manny staying humble despite earning $160M from last fight, 4:31 am, 07-02-15



Boxingvoice: Rances Barthelemy Wants Omar Figueroa Next At 140Lbs. https:, 4:25 am, 07-02-15



pranzer: * PROJECT World's Top 5- ELO 2800: GM Wesley So PHI *, 3:55 am, 07-02-15



tanitanha000: Watch Wimbledon live 2015 tennis streaming online HD TV Cove, 2:39 am, 07-02-15



Boxingvoice: Errol Spence Wants Shawn Porter On Mayweather UnderCard, 2:37 am, 07-02-15



Boxingvoice: Kyrone Davis Adrien Broner Lead Sparring Partner For Porter, 2:25 am, 07-02-15



Boxingvoice: Errol Spence Porter Roughed Him Up Made It Tough For Broner, 2:18 am, 07-02-15



coyadev: Manny staying humble despite earning $160M from last fight, 1:55 am, 07-02-15



coyadev: Pacquiao: I have 10,000 angels, 1:48 am, 07-02-15



phillyboxing: Training Camp Notes: Sullivan Barrera, 1:38 am, 07-02-15



phillyboxing: Marysol Castro Joins ESPN as Host of Premier Boxing Champion, 1:36 am, 07-02-15



CanadianMan: PARIS HILTON PLANE PRANK IN DUBAI IM GOING TO DIE!! LOL, 1:35 am, 07-02-15



phillyboxing: Sparks will fly July 17th as Biosse faces Chatman, 1:26 am, 07-02-15



ajie.anggaon: * PROJECT World's Top 5- ELO 2800: GM Wesley So PHI *, 1:06 am, 07-02-15



gwapo123: Timothy Bradley vs Jessie Vargas REPLAY VIDEO, 12:51 am, 07-02-15



gwapo123: John Riel Casimero vs Amnat Ruenroeng Full Fight Replay Vide, 12:50 am, 07-02-15



<-lokim->: VIDEO: "Creed" Trailer, 12:45 am, 07-02-15



phillyboxing: Abraham confident of victory: "Stieglitz has no killer blow!, 12:38 am, 07-02-15



skylitwo: cell technology stuff, 12:36 am, 07-02-15



johnnyj: Manny staying humble despite earning $160M from last fight, 12:33 am, 07-02-15



El Kurugyo: * PROJECT World's Top 5- ELO 2800: GM Wesley So PHI *, 12:14 am, 07-02-15



JoeyInCali: Manny staying humble despite earning $160M from last fight, 11:56 pm, 07-01-15



Pacwan: Pacquiao: I have 10,000 angels, 11:37 pm, 07-01-15



phillyboxing: VIDEO: "Creed" Trailer, 10:51 pm, 07-01-15



phlebotomist: Timothy Bradley vs Jessie Vargas Fight Replay HBO Video, 10:42 pm, 07-01-15



phlebotomist: Adrien Broner vs Shawn Porter Fight Replay, 10:41 pm, 07-01-15



phlebotomist: John Riel Casimero vs Amnat Ruenroeng Full Fight Replay, 10:41 pm, 07-01-15



phlebotomist: TKO Diego Magdaleno vs Jose Gonzalez Fight Replay, 10:40 pm, 07-01-15



crispyfry: Manny staying humble despite earning $160M from last fight, 10:39 pm, 07-01-15



phillyboxing: SIX BOXERS RISK THEIR UNDEFEATED RECORDS IN SHOBOX: THE NEW, 10:39 pm, 07-01-15



tabokanon: DIRTIEST BOXING 2015: John Riel Casimero vs Ruenroeng Video!, 9:44 pm, 07-01-15



redzlord: Bitcoin & Mining Rig Thread, 8:45 pm, 07-01-15



zorann: Mayweather: "the Philippines is fucked up", 8:40 pm, 07-01-15



lhovic20: Why Manny Pacquiao Beat Mayweather (Landed Punches Count at, 8:22 pm, 07-01-15



noel3393: Pacquiao: I have 10,000 angels, 7:43 pm, 07-01-15