LATEST NEWS.


DONNIE NIETES SIGNS LIMITED EDITION PHOTOS FOR DENTISTRY FOR EVERY VILLAGE FOUNDATION FUND RAISER
PhilBoxing.com, Wed, 31 Aug 2016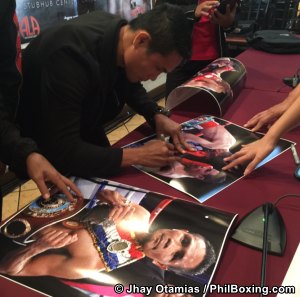 Los Angeles, CA: It was just a passing idea, just like wishful thinking, if you may. But it suddenly became a reality when former WBO Light Flyweight Champion Donnie Nietes of Murcia, Negros Occidental found the idea gre Read Full Story >>>

The Past Week In Action 30 August 2016
By Eric Armit, PhilBoxing.com, Wed, 31 Aug 2016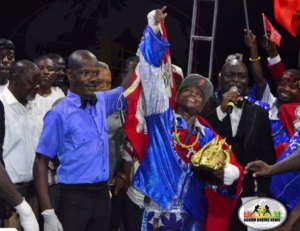 Dogboe wins. August 26 Phoenix, AZ, USA: Welter: Abel Ramos (17-1-2) W RTD 6 Juan Jesus Rivera (28-16). Super Middle: Andrew Hernandez (14-4-1,1ND) W RTD 6 Jorge Silva (21-12-2). Ramos vs. Rivera R Read Full Story >>>
CINDERELLA MAN CALLS IT A DAY: JACK ASIS RETIRES
PhilBoxing.com, Wed, 31 Aug 2016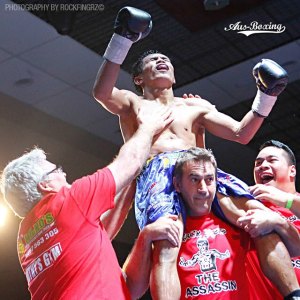 Jack Asis announces his retirement from professional boxing. HE'S THE FAIRYTALE MAN WHO GAVE US ALL HOPE AND BELIEF that dreams really can come true. He proved to the World, your heart is bigger than any punch. He ga Read Full Story >>>
The "O" must go in co-feature showdown at "Knockout Night at the D" between Undefeated junior middleweight prospects Rolando Garza & Neeco Macias
PhilBoxing.com, Wed, 31 Aug 2016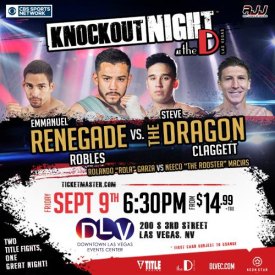 Live Sept. 9 on CBS Sports Network from the Downtown Las Vegas Event Center LAS VEGAS (August 30, 2016) - In a classic match-up of contrasting styles, Rolando "Rola" Garza and Neeco "The Rooster" Macias will both put th Read Full Story >>>
American Top Team partners with World MMA Association
PhilBoxing.com, Wed, 31 Aug 2016
American Top Team (ATT) and World MMA Association (WMMAA), the largest MMA governing body organization in the world, have initiated a partnership including a USA National MMA team program, it was jointly announced this past Monday. The alliance will foster and redefine amateur platforms, both in th Read Full Story >>>
WBO champ vows to win
By Nick Giongco, Tempo, Wed, 31 Aug 2016
McJoe Arroyo has a little bit of knowledge involving the storied ring rivalry between his native Puerto Rico and the Philippines that he intends to maintain his nation's superiority when he defends the World Boxing Organization super-flyweight title this Saturday. Jerwin Ancajas will be looking t Read Full Story >>>
JEFF MAYWEATHER BELIEVES VARGAS IS IN A GREAT SITUATION AGAINST PACQUIAO
By Ronnie Nathanielsz, PhilBoxing.com, Wed, 31 Aug 2016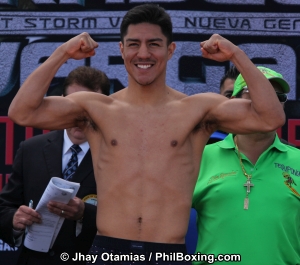 Former IBF junior lightweight champion "Jazzy Jeff" Mayweather, the uncle of unbeaten former pound for pound king Floyd Mayweather Jr, believes Jessie Vargas "is in a great situation" when he faces eight division world Read Full Story >>>
IBF WORLD TITLE-FIGHT: ARROYO-ANCAJAS FACEOFF/WEIGH-IN ON SEPT. 2
By Lito delos Reyes, PhilBoxing.com, Wed, 31 Aug 2016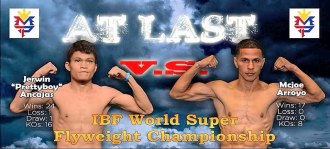 MANILA --- International Boxing Federation (IBF) World super flyweight defending champion McJoe Arroyo of Puerto Rico and Filipino challenger Jerwin "Pretty Boy" Ancajas will finally face off in their official weigh-in on Fri Read Full Story >>>
SOLID BROADWAY BOXING CARD ANNOUNCED STRONG NEW ENGLAND FLAVOR
PhilBoxing.com, Wed, 31 Aug 2016
This Thursday night at Foxwoods Resort Casino MASHANTUCKET, CT (August 30, 2016) - DiBella Entertainment has announced a solid Broadway Boxing card, showcasing many of New England's most promising prospects, this Thursday night in Fox Theater at Foxwoods Resort Casino in Mashantucket, Connecticu Read Full Story >>>
UFC's Alistair Overeem -- Brock Lesnar Will Never Return to UFC (VIDEO)
PhilBoxing.com, Wed, 31 Aug 2016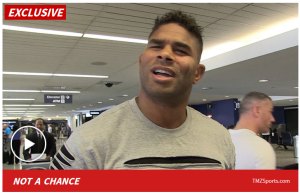 TMZ SPORTS -- Brock Lesnar is DONE in the UFC -- and will never fight in the Octagon ever again, despite his hopes for a comeback ... so says Alistair Overeem. Overeem is one of the few guys who actually beat Lesn Read Full Story >>>
Boxing champ laments lack of support
By Nick Giongco, The Manila Bulletin, Wed, 31 Aug 2016
Johnriel Casimero, who defends his International Boxing Federation flyweight title on Sept. 10 in London, says he is forced to fight overseas owing to the lack of support on home soil. "Walang pera dito sa Pilipinas," said Casimero, who meets Charlie Edwards of England at the O2 Arena. Proof t Read Full Story >>>
A star, but not quite yet
By Edri Aznar, Sun.Star Cebu, Wed, 31 Aug 2016
THERE'S no denying Mark Magsayo's star potential. He has the speed, the power, the movement, the footwork and most importantly, the heart that a boxing star possesses. However, ALA Promotions president Michael Aldeguer and trainer Edito Villamor won't brand him a star just yet. "He has the Read Full Story >>>
Pacman: Training center a must
By Abac Cordero, The Philippine Star, Wed, 31 Aug 2016
MANILA, Philippines – Sen. Manny Pacquiao yesterday called on the country's top sports leaders to put their act together and make sure that the construction of a modern training center to cater to the national athletes becomes a reality. The training center, which may cost over P2 billion and aim Read Full Story >>>
Quijano: It's Manny's fight to lose
By Jingo Quijano, Sun.Star Cebu, Wed, 31 Aug 2016
AFTER vacillating and giving us mixed signals, Sen. Manny Pacquiao will officially "unretire" and fight Jessie Vargas (27-1, 10 KOs) on November 5 at Las Vegas, Nevada. Who is Jessie Vargas, by the way? The best name on his resume is Timothy Bradley whom Manny fought three times. Vargas los Read Full Story >>>
Brook: I've Faced Death, Golovkin is Fun - I'll Rip Into Him!
By Edward Chaykovsky, BoxingScene.com, Wed, 31 Aug 2016
Kell Brook is promising to dictate the action when he faces Gennady Golovkin next Saturday night at the O2 Arena in London. Brook (36-0, 25KOs), who holds the IBF welterweight world title, leaps up by thirteen pounds to challenge Golovkin (35-0, 32KOs) for the WBC, IBF, IBO, WBA middleweight belt Read Full Story >>>
Canelo loves the Lone Star State
By Dan Rafael, ESPN.com, Wed, 31 Aug 2016
The first time Mexican star Canelo Alvarez fought in Texas he outpointed Austin Trout to unify junior middleweight belts before a crowd of some 40,000 at the Alamodome in San Antonio in April 2013. Alvarez was the star of the show, drawing a raucous mostly Mexican crowd to the fight. When Alvarez Read Full Story >>>
Golovkin vs Brook: Brook ready to dictate to Golovkin
By Isaac Robinson, SkySports.com, Wed, 31 Aug 2016
Kell Brook may seem "pleasant to be around" to his loved ones but is adamant his heavier diet spells bad news for Gennady Golovkin. WBA Super, WBC and IBF world middleweight champion Golovkin (35-0-KO32) is favourite to defend his titles on his UK debut at The O2 - live on Sky Sports Box Office - Read Full Story >>>
Brook: I'm faster than in any other camp, I can't wait to rip into GGG!
World Boxing News, Wed, 31 Aug 2016
Kell Brook is fired up for his upcoming middleweight title clash with Gennady Golovkin as the welterweight world champion prepares to move up thirteen pounds on September 10. The 30 year-old puts his hard-earned and undefeated reputation on the line in the most difficult way possible at London's Read Full Story >>>
The Past, the Present and The Future
By Cain Bradley, Boxing.com, Wed, 31 Aug 2016
Shields was the subject of Oscar De La Hoya's only tweet about Olympic boxing, leading some to suggest he may be after her signature… Female Olympic boxing entered its second games after being a roaring success in London in 2012. The three Olympics champions from 2012 came into 2016 as odds on fa Read Full Story >>>
MANNY PACQUIAO AND JESSIE VARGAS LOS ANGELES PRESS CONFERENCE LUNCHEON TO ANNOUNCE THEIR WORLD TITLE RUMBLE
PhilBoxing.com, Tue, 30 Aug 2016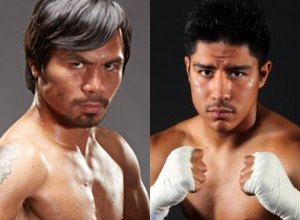 Next Thursday! September 8, at 12:30 P.M. PT The Beverly Hills Hotel BEVERLY HILLS, CALIF. (August 29, 2016) -- Boxing's only eight-division world champion and the reigning Fighter of the Decade, MANNY "Pa Read Full Story >>>
So who needs this no-glory Pacquiao fight?
By Recah Trinidad, PhilBoxing.com, Tue, 30 Aug 2016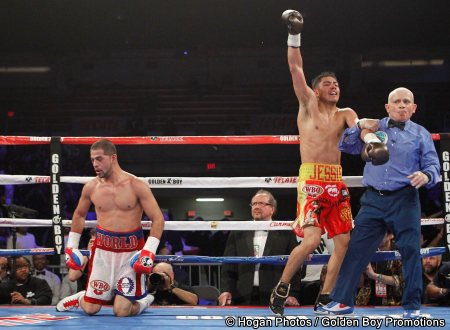 QUESTIONS continued to be raised on the relevance of Manny Pacquiao's fight against the clearly inferior Jessie Vargas in Las Vegas on Nov. 5. The latest one came from Fight Saga, which wondered whether P Read Full Story >>>
NIETES, MAGSAYO, VILLANUEVA SOCAL MALL TOUR
PhilBoxing.com, Tue, 30 Aug 2016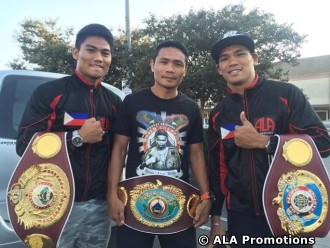 The Philippines' longest reigning world champion and debuting flyweight Donnie 'Ahas' Nietes who headlines ALA Promotions' Philippines vs Mexico card on Sep. 24 at the StubHub Center in Carson, California, together Read Full Story >>>
JEAN-CLAUDE VAN DAMME HOPES THERE CAN BE A PACQUIAO-MAYWEATHER REMATCH
By Ronnie Nathanielsz, PhilBoxing.com, Tue, 30 Aug 2016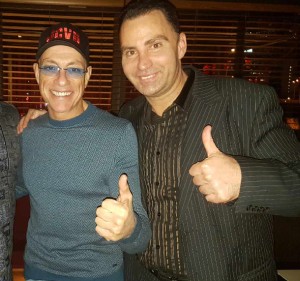 Despite Floyd Mayweather Jr's insistence that he has retired from boxing and has no plans of returning to the ring particularly in a rematch with eight division world champion Manny Pacquiao, there are still persistent rum Read Full Story >>>
CANELO VS. SMITH PPV UNDERCARD CONFERENCE CALL TRANSCRIPT
PhilBoxing.com, Tue, 30 Aug 2016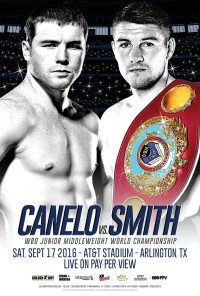 ERIC GOMEZ, Senior Vice President of Golden Boy Promotions: Thank you all for joining us on the call today. This is the official media conference call for the televised pay-per-view undercard. The fighters that wil Read Full Story >>>
Paige VanZant -- I've Never Seen 'Karate Kid' ... Despite Solid Crane Kick (VIDEO)
PhilBoxing.com, Tue, 30 Aug 2016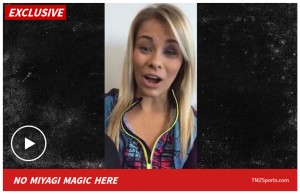 Paige VanZant knows not the ways of the evil Cobra Kai ... or how to properly wax a car ... because SHE'S NEVER SEEN 'KARATE KID!' So, we were talking with Paige about her insane K.O. crane kick to Bec Rawlings' face at "U Read Full Story >>>
Saul Alvarez: Everyone knows Kell Brook will get knocked out by Gennady Golovkin
By Chris McKenna, Daily Star (UK), Tue, 30 Aug 2016
That is the view of Saul 'Canelo' Alvarez, who faces Brook's fellow Brit Liam Smith on September 17. Alvarez will be watching a week earlier when Brook goes toe-to-toe with WBC, IBF and WBA middleweight king Golovkin in London. The Mexican opted out of a fight with the Kazakh KO artist and ins Read Full Story >>>
Sadness Defines the Manny Pacquiao Comeback
By Sam Cooper, The Boxing Tribune, Tue, 30 Aug 2016
What do you call the unnecessary, unwanted, pointless comeback of a true ring legend and first ballot Hall of Famer? In the case of Manny Pacquiao's upcoming November 5 return against Jessie Vargas, that word would be "sadness." Honestly, Pacquiao deserves much better than a comeback like the one Read Full Story >>>
Canelo could face Rosado-Monroe winner or Saunders in December
By Mitch Abramson, RingTV.com, Tue, 30 Aug 2016
The plans for Canelo Alvarez's possible fight in December if he gets by Liam Smith are starting to become clearer. Golden Boy VP Eric Gomez said he intends to speak with promoter Frank Warren, who promotes both Smith and Billy Joe Saunders, about the possibility of matching the WBO middleweight t Read Full Story >>>
PROMOTER LEWKOWICZ SAYS PERALTA NO LONGER A CAB DRIVER AFTER HUGE UPSET VICTORY OVER ROBERT GUERRERO
PhilBoxing.com, Mon, 29 Aug 2016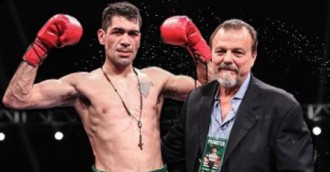 Sampson Lewkowicz, promoter of suddenly red-hot welterweight David Emanuel "El Pirata" Peralta, says big changes are on the way for his cab-driving Argentinean fighter. On Saturday night, Peralta (26-2-1, 14 KOs), a 70: Read Full Story >>>
SADAM ALI AND EDDIE GOMEZ TO HEADLINE THE CANELO VS. SMITH PRELIMINARY UNDERCARD
PhilBoxing.com, Mon, 29 Aug 2016
FIGHTS WILL BE AVAILABLE LIVE ON MULTIPLE DIGITAL OUTLETS LOS ANGELES (August 29, 2016) - Fans at AT&T Stadium, in Arlington, Texas will be in for a treat on Saturday, September 17, as top welterweight contenders Sadam "World Kid" Ali (22-1, 13 KOs) and Eddie "E-Boy" Gomez (19-1, 11 KOs), make th Read Full Story >>>
BOX-OFFS VI RESULTS
By Felman Gingoyon, PhilBoxing.com, Mon, 29 Aug 2016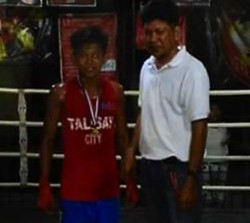 The sixth installment of Box-Offs proved to be the biggest since it's inception last January in terms of bouts contested with 16. The event took place on the evening of August 27th at 10,000 BC Boxing Gym in Lagtang, Talisay Read Full Story >>>
GH3 Promotions signs undefeated Heavyweight Ray Edwards
PhilBoxing.com, Mon, 29 Aug 2016
Nutley, NJ (August 29, 2016) - GH3 Promotions is honored to announce the signing of undefeated heavyweight Ray Edwards to an exclusive promotional contract. Edwards of Cincinnati, Ohio has a perfect mark of 11-0-1 with seven knockouts. After a successful seven-year career as a defensive end fo Read Full Story >>>
Gello-ani confident Casimero will win
By Dale Rosal, Cebu Daily News, Mon, 29 Aug 2016
For veteran boxing promoter Samson Gello-ani, it's not a question of whether Johnriel "Cuadro Alas" Casimero will win against Briton Charlie Edwards, but how. The SGG Promotions top honcho is brimming with confidence that his prized ward will successfully defend his International Boxing Federatio Read Full Story >>>
Kid Galahad: Brook Will Beat Golovkin in Style, Box His Ears Off!
By Edward Chaykovsky, BoxingScene.com, Mon, 29 Aug 2016
IBF welterweight champion Kell Brook (36-0, 25KOs) is going to box Gennady Golovkin's ears off, according to Brook's undefeated stablemate Kid Galahad. Brook will move up by thirteen pounds to challenge Golovkin for his IBF/IBO/WBA/WBC middleweight world titles on September 10th at the O2 Arena i Read Full Story >>>
Kovalev says bring on Ward: I want to be pound for pound best!
By Phil D. Jay, World Boxing News, Mon, 29 Aug 2016
Sergey Kovalev is delighted with the recent confirmation as the light-heavyweight king gets the chance to raise his profile significantly in a fight against Andre Ward. Ward, an undefeated super-middleweight ruler, is widely recognised as one of the best boxers in the world, whilst Kovalev has st Read Full Story >>>
Op-Ed: Why no one believes Floyd Mayweather is staying retired
By Leo Reyes, Digital Journal, Mon, 29 Aug 2016
Every time Floyd Mayweather engages members of media to promote his fighters under his own Mayweather Promotions or to make announcement about his projects, there will always be a couple of questions about a potential ring return. Mayweather said the question is old and has been asked over and ov Read Full Story >>>
MAYWEATHER AGAIN DENIES RETURN
By Maloney L. Samaco, PhilBoxing.com, Mon, 29 Aug 2016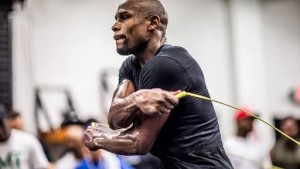 A Floyd Mayweather, Jr. return was hugging the headlines anew when he posted on Instagram a message and a video showing him on training with several people watching. Posted is a photo of himself skipping ropes with the mess Read Full Story >>>
Toka Kahn Clary: "I still think that Manny Pacquiao is a very dangerous fighter!"
By Jenna Jay, OTR Boxing Radio, Mon, 29 Aug 2016
Toka Kahn-Clary is an undefeated prospect fighting under the Top Rank promotional banner. Clary, is currently competing in the featherweight division which is one of the most stacked weight classes in the sport. Toka is set to return to the ring in September and hopes to move a step closer towards a Read Full Story >>>
Mayweather vs. Pacquiao PPV: Strange Twist in Waiter Lawsuit
By Edward Chaykovsky, BoxingScene.com, Mon, 29 Aug 2016
A strange twist in a lawsuit connected to the Floyd Mayweather Jr. vs. Manny Pacquiao mega-match from last May. The highly successful pay-per-view event generated 4.6 million buys and over $670 million in revenue. Gabriel Rueda, a waiter at celeb hot spot Craig's, filed suit in February for $8 Read Full Story >>>
ARROYO ARRIVES FOR DEFENSE VS. ANCAJAS
By Rene Bonsubre, Jr., PhilBoxing.com, Mon, 29 Aug 2016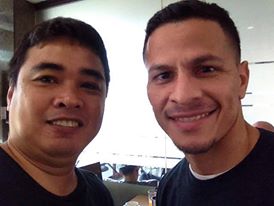 The IBF world super flyweight title fight that has seen its share of postponements and change of venue will finally push through. Joven Jimenez, manager of Filipino challenger Jerwin Ancajas (24W-1L-1D,16KO's), informed philboxi Read Full Story >>>
"KUMBINASYON"


Filipino boxing legend Manny Pacquiao resumes his regular column at PhilBoxing.com and now Bandera to express his own thoughts and to be able to communicate to his fans worldwide.


Latest posts from the Forum...
Philippine time (GMT +8)

New members, please read the FORUM RULES before you post.
Not yet a member? Click HERE to register.


klintshin: Benson Henderson vs Patricio Freire Fight Replay, 11:02 am, 08-31-16



klintshin: Guerrero vs Peralta Full Fight Replay Video, 11:02 am, 08-31-16



phlebotomist: Czar Amonsot vs Christian Lopez Fight Replay KO, 10:48 am, 08-31-16



phlebotomist: KO! Czar Amonsot vs Christian Lopez Full Fight Replay, 10:47 am, 08-31-16



mangingisda: Aguilar, Fajardo, Slaughter -Who would be the greatest?, 10:41 am, 08-31-16



JABEZJ: * PROJECT World's Top 5- ELO 2800: GM Wesley So PHI *, 9:00 am, 08-31-16



phillyboxing: DON KING'S PEACE & LOVE ROUNDUP!, 8:41 am, 08-31-16



miron_lang: * PROJECT World's Top 5- ELO 2800: GM Wesley So PHI *, 8:39 am, 08-31-16



phillyboxing: American Top Team partners with World MMA Association, 8:34 am, 08-31-16



phillyboxing: The "O" must go in co-feature showdown at "Knockout Night at, 7:57 am, 08-31-16



BaksingPan: Pacquiao win or lost his upcoming fight?, 6:58 am, 08-31-16



JCOOL2329: Do you think Manny Pacquiao visits Pacland and this forum?, 6:57 am, 08-31-16



boxingnight: Pacquiao win or lost his upcoming fight?, 6:08 am, 08-31-16



phillyboxing: WORLD SERIES OF FIGHTING ANNOUNCES COMPLETE, SIX-FIGHT MAIN, 4:38 am, 08-31-16



phillyboxing: SOLID BROADWAY BOXING CARD ANNOUNCED STRONG NEW ENGLAND FLAV, 4:36 am, 08-31-16



phillyboxing: Fight Network Presents UFC FIGHT NIGHT®: Arlovski vs. Barnet, 4:29 am, 08-31-16



pinoypalakamongoloid: Do you think Manny Pacquiao visits Pacland and this forum?, 4:05 am, 08-31-16



pinoypalakamongoloid: Do you think Manny Pacquiao visits Pacland and this forum?, 4:00 am, 08-31-16



pinoypalakamongoloid: Do you think Manny Pacquiao visits Pacland and this forum?, 3:58 am, 08-31-16



lhovic20: PAQUAIO WOULD GET KILLED BY CRASFWORD, 2:39 am, 08-31-16



El Pintor: * PROJECT World's Top 5- ELO 2800: GM Wesley So PHI *, 2:20 am, 08-31-16



phillyboxing: KNOCKOUT ARTIST TYRONE BRUNSON BOXES UNDEFEATED ISMAEL GARCI, 1:36 am, 08-31-16



phillyboxing: Video: "I won't take any pluses or negatives from the Khan f, 1:33 am, 08-31-16



pacquiofan: Pacquiao win or lost his upcoming fight?, 1:26 am, 08-31-16



Super Pac Hater: PAQUAIO WOULD GET KILLED BY CRASFWORD, 1:16 am, 08-31-16



Super Pac Hater: Manny Pacquiao broke?, 1:14 am, 08-31-16



pacquiofan: Enjoy Pacquiao vs Vargas Live Stream, 12:32 am, 08-31-16



phillyboxing: VIDEO: Canelo vs. Smith Preview Show, 11:35 pm, 08-30-16



phillyboxing: Canelo Blog Part 1: Tuesday, August 30, 10:47 pm, 08-30-16



phillyboxing: ONE: DEFENDING HONOR SET FOR SINGAPORE INDOOR STADIUM ON 11, 10:38 pm, 08-30-16



fropo1230: * PROJECT World's Top 5- ELO 2800: GM Wesley So PHI *, 10:12 pm, 08-30-16



joeyj: * PROJECT World's Top 5- ELO 2800: GM Wesley So PHI *, 9:01 pm, 08-30-16



thedarkdragon11: Surprising FACTS: Music and Cinema, 3:48 pm, 08-30-16



thedarkdragon11: Aguilar, Fajardo, Slaughter -Who would be the greatest?, 3:37 pm, 08-30-16



thedarkdragon11: Manny Pacquiao broke?, 3:34 pm, 08-30-16



BaksingPan: Manny Pacquiao broke?, 2:53 pm, 08-30-16



whinz: Manny Pacquiao broke?, 2:17 pm, 08-30-16



CIMARON: Surprising FACTS: Music and Cinema, 1:33 pm, 08-30-16



JABEZJ: Manny Pacquiao broke?, 1:20 pm, 08-30-16



10cc: Manny Pacquiao broke?, 1:03 pm, 08-30-16



whinz: Aguilar, Fajardo, Slaughter -Who would be the greatest?, 12:08 pm, 08-30-16



whinz: Aguilar, Fajardo, Slaughter -Who would be the greatest?, 12:04 pm, 08-30-16



whinz: Junmar Fajardo: 5-Time PBA MVP, 12:02 pm, 08-30-16



Junorz: Surprising FACTS: Music and Cinema, 11:59 am, 08-30-16



Junorz: Surprising FACTS: Music and Cinema, 11:30 am, 08-30-16



miron_lang: Aguilar, Fajardo, Slaughter -Who would be the greatest?, 11:28 am, 08-30-16



Junorz: Surprising FACTS: Music and Cinema, 10:44 am, 08-30-16



JABEZJ: Aguilar, Fajardo, Slaughter -Who would be the greatest?, 10:43 am, 08-30-16



Junorz: Surprising FACTS: Music and Cinema, 10:24 am, 08-30-16



miron_lang: Aguilar, Fajardo, Slaughter -Who would be the greatest?, 8:57 am, 08-30-16



JABEZJ: Aguilar, Fajardo, Slaughter -Who would be the greatest?, 8:53 am, 08-30-16



JABEZJ: Junmar Fajardo: 5-Time PBA MVP, 8:52 am, 08-30-16



boxing-maniac: Manny Pacquiao broke?, 8:40 am, 08-30-16



JABEZJ: Don"t be surprise if Pac's KIA team win, 8:36 am, 08-30-16



pacquiofan: Watch Pacquiao vs Vargas Live Stream, 5:11 am, 08-30-16



boxing_the_no1_sport: BOXING THE NO. 1 SPORT, 5:09 am, 08-30-16



lhovic20: Watch Pacquiao vs Vargas Live Stream, 4:47 am, 08-30-16



phillyboxing: WORLD SERIES OF FIGHTING CONTINUES FIGHTER SIGNING SPREE WIT, 4:38 am, 08-30-16



phillyboxing: Fight Network Presents ONE: Unbreakable Warriors, Lion Fight, 4:36 am, 08-30-16



phillyboxing: TOP WELTERWEIGHT CONTENDERS SADAM ALI AND EDDIE GOMEZ TO HEA, 2:20 am, 08-30-16



phillyboxing: GH3 Promotions signs undefeated Heavyweight Ray Edwards, 1:46 am, 08-30-16



phillyboxing: Video: Golovkin vs. Brook & Chocolatito vs. Cuadras Prev, 1:43 am, 08-30-16



phillyboxing: PROMOTER LEWKOWICZ SAYS PERALTA NO LONGER A CAB DRIVER AFTER, 1:05 am, 08-30-16



phillyboxing: Oscar de la Hoya Blog Part 2: Monday, August 29, 12:57 am, 08-30-16



pacquiofan: Watch Pacquiao vs Vargas Live Stream, 12:44 am, 08-30-16



boxing_the_no1_sport: BOXING THE NO. 1 SPORT, 11:13 pm, 08-29-16



boxing_the_no1_sport: BOXING THE NO. 1 SPORT, 11:08 pm, 08-29-16



gwapo123: Robert Guerrero vs David Peralta Replay Video, 9:40 pm, 08-29-16



pugakss: Jess Vargas is being underestimated he can knock Pac Pac out, 9:31 pm, 08-29-16



boxing_the_no1_sport: BOXING THE NO. 1 SPORT, 8:49 pm, 08-29-16



ManofSteel015: Jess Vargas is being underestimated he can knock Pac Pac out, 8:35 pm, 08-29-16



hightimes: •••ALASKA ACES "Gatas Republik" THREAD•••, 8:33 pm, 08-29-16



yobfloria: Robert Guerrero vs. David Emanuel Peralta fight replay, 8:32 pm, 08-29-16



hightimes: Barangay Ginebra OFFICIAL THREAD, 8:30 pm, 08-29-16



gambol: •••ALASKA ACES "Gatas Republik" THREAD•••, 8:07 pm, 08-29-16



FunkyDog: Who do you think is the next Manny Pacquiao?, 7:37 pm, 08-29-16



Gamby Sucaldito: Who do you think is the next Manny Pacquiao?, 7:18 pm, 08-29-16



Romy Nabas: Who do you think is the next Manny Pacquiao?, 6:35 pm, 08-29-16



Gamby Sucaldito: Who do you think is the next Manny Pacquiao?, 6:33 pm, 08-29-16



Romy Nabas: Who do you think is the next Manny Pacquiao?, 5:59 pm, 08-29-16



boxing_the_no1_sport: BOXING THE NO. 1 SPORT, 5:59 pm, 08-29-16



boxing_the_no1_sport: BOXING THE NO. 1 SPORT, 5:44 pm, 08-29-16



gambol: Who do you think is the next Manny Pacquiao?, 4:18 pm, 08-29-16



Indomitable_Soldier: PAQUAIO WOULD GET KILLED BY CRASFWORD, 4:13 pm, 08-29-16



Rodrigo Roxas III: Who do you think is the next Manny Pacquiao?, 4:09 pm, 08-29-16



Indomitable_Soldier: Who do you think is the next Manny Pacquiao?, 4:04 pm, 08-29-16



wowieboy: * PROJECT World's Top 5- ELO 2800: GM Wesley So PHI *, 4:03 pm, 08-29-16



Romy Nabas: PAQUAIO WOULD GET KILLED BY CRASFWORD, 2:37 pm, 08-29-16



Gamby Sucaldito: How many rounds do you think Manny can last in UFC/MMA?, 1:56 pm, 08-29-16



JCOOL2329: How many rounds do you think Manny can last in UFC/MMA?, 1:56 pm, 08-29-16



JCOOL2329: PAQUAIO WOULD GET KILLED BY CRASFWORD, 1:55 pm, 08-29-16



JCOOL2329: Lol why do all Filipino fighters get knocked out?, 1:53 pm, 08-29-16



Gamby Sucaldito: PAQUAIO WOULD GET KILLED BY CRASFWORD, 1:51 pm, 08-29-16



Gamby Sucaldito: How many rounds do you think Manny can last in UFC/MMA?, 1:50 pm, 08-29-16



Gamby Sucaldito: Lol why do all Filipino fighters get knocked out?, 1:49 pm, 08-29-16



gwapo123: Robert Guerrero vs David Peralta Replay Video, 12:15 pm, 08-29-16



gwapo123: Robert Guerrero vs David Peralta Replay Video, 12:14 pm, 08-29-16



phillyboxing: An interview with the boxing writer by the boxing writer, 12:13 pm, 08-29-16