LATEST NEWS.


JASON CANOY IN SOUTH AFRICA, DAY 2 NOTES
PhilBoxing.com, Wed, 29 Mar 2017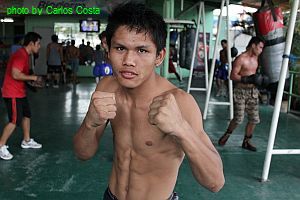 Jason Canoy. Day 2 Notes – March 28, 2017 In our chat with South African boxing enthusiasts, Jason Canoy's chances of winning will depend on his being able to turn the fight into a brawl, hurting Magwaca and not have Magwaca Read Full Story >>>

With 'Chocolatito' deposed, Nietes wants to unify at flyweight
By Ryan Songalia, Rappler, Wed, 29 Mar 2017
MANILA, Philippines – Donnie Nietes wasn't in gloves and shorts, but in suit and tie at the Manila Hotel on Saturday, March 25, to accept the "Award of Distinction" at the 17th Gabriel "Flash" Elorde Boxing Awards and Banquet of Champions. With Manny Pacquiao, who was slated to receive the same a Read Full Story >>>

How boxing promoters are hurting the sport, and how they could help revive it
By Kevin Iole, Yahoo! Sports, Wed, 29 Mar 2017
About 21 percent of Americans approve of the job that Congress is doing, according to the aggregate of six major polls, compiled by Real Clear Politics. About 65 percent disapprove. I suspect that if you similarly polled boxing fans about the job promoters are doing, the numbers would be similar, Read Full Story >>>

TBE v GGG: 49-1
By John Gatling, NYFights.com, Wed, 29 Mar 2017
When asked by FightHype.com about Gervonta Davis and Errol Spence, Floyd Mayweather (49-0, 27 KOs) chose to ignore those questions entirely, opting instead to trash Gennady "GGG" Golovkin (37-0, 33KOs) following his 12 round trial with Daniel Jacobs (32-2, 29KOs). Take it away Floyd. "Let's ta Read Full Story >>>

Shawn Porter Advises Manny Pacquiao to Retire for Good Instead of Facing Amir Khan
By Unofre Pili, Sports World News, Wed, 29 Mar 2017
Manny Pacquiao (59-6, 38 KOs) and Amir Khan (31-4,19 KOs) used to train under the same roof, which is the Wild Card Gym in California owned by famed trainer Freddie Roach. But an anticipation about them facing each other in a ring has always been an interesting and exciting one, a very good requirem Read Full Story >>>

NIETES INTENDS TO FORTIFY LEGACY
PhilBoxing.com, Wed, 29 Mar 2017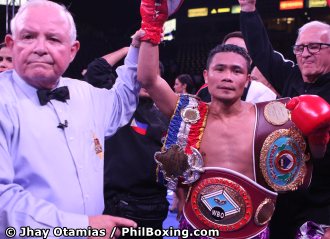 With another domination attempt at a third division, longest – reigning Filipino world champion Donnie "Ahas" Nietes takes a step closer to fulfilling another achievement for his boxing career and the whole of Philippine Read Full Story >>>
Schaefer Agrees With De La Hoya's Position on Golovkin June Fight
BoxingScene.com, Wed, 29 Mar 2017
Los Angeles - At the moment, there are ongoing negotiations for middleweight champion Gennady Golovkin (37-0, 33 KOs) to make a defense of his IBF, IBO, WBA, WBC world titles on June 10 in his home country of Kazakhstan. The goal is to finalize a deal to fight WBO world champion Billy Joe Saunder Read Full Story >>>
World Ranked Middleweight Antoine Douglas stops Eduardo Mercedes in 2 rounds to win WBC Fedelatin title
PhilBoxing.com, Wed, 29 Mar 2017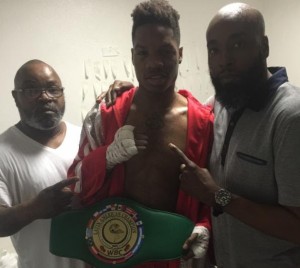 Nutley, NJ (March 28, 2017) - World ranked middleweight Antoine Douglas scored his 2nd knockout in 2 weeks as he took out Eduardo Mercedes at 1:45 of round two to capture the WBC Fedelatin title in a bout that took place in Read Full Story >>>
BARTHELEMY vs BLANCO Tonight Live on FS1
PhilBoxing.com, Wed, 29 Mar 2017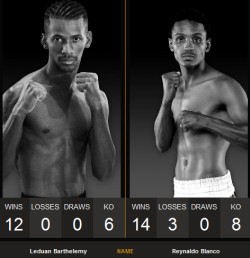 March has been an action-packed month in the ring, featuring duels between some of boxing's biggest names and big stage opportunities for some of the sport's top up-and-comers. Tonight, Premier Boxing Champions returns to Read Full Story >>>
Canoy Ready To Rumble in South Africa
PhilBoxing.com, Wed, 29 Mar 2017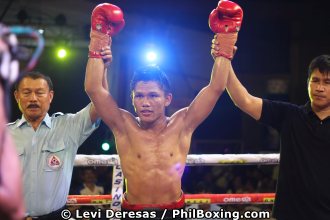 Jason Canoy of the Omega Boxing Gym is ready for his World Boxing Federation bantamweight championship fight against Mzuvikile Magwaca on Friday, March 31. Jason Canoy arrived in Cape Town, South Africa on Monday, March 2 Read Full Story >>>
Floyd Mayweather Selling Rare Multi-Mil $ Hypercar
PhilBoxing.com, Wed, 29 Mar 2017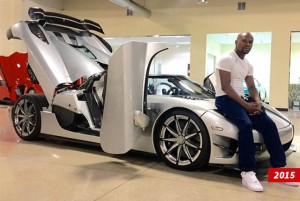 TMZ SPORTS -- Floyd Mayweather is selling one of the most rare and expensive cars in his collection -- his Koenigsegg CCXR Trevita -- one of only 2 in the world. Floyd's car guy, Obi Okeke, tells TMZ Sports Mayweat Read Full Story >>>
Heralded Prospects Ruben Villa & Michael Dutchover to make East Coast-debuts
PhilBoxing.com, Wed, 29 Mar 2017
On Friday, April 14th at The MGM National Harbor in Oxon Hill, Maryland; Tickets On Sale Now! Oxon Hill, Md. (March 28, 2017) -Highly regarded and undefeated prospects, Ruben Villa and Michael Dutchover will make their East Coast debuts as part of the non-televised undercard before a championship Read Full Story >>>
Bad Medina Says It's All On Conor To Make Superfight (VIDEO)
PhilBoxing.com, Wed, 29 Mar 2017
The Floyd Mayweather vs. Conor McGregor superfight WILL happen ... as soon as Conor makes it happen, this according to one of Floyd's closest "friends" (who he used to bang). TMZ Sports talked to Bad Medina, the woman who Floyd began dating right after his relationship with Ms. Jackson (remember Read Full Story >>>
Birthday Boy Petr Petrov training hard in Madrid for Flanagan showdown
PhilBoxing.com, Wed, 29 Mar 2017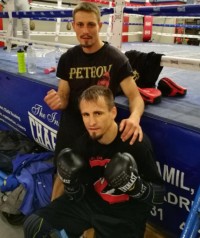 Madrid Spain (March 28, 2017)--WBO Lightweight world title challenger arrived in his hometown of Madrid, Spain to finish up preparations for his April 8th world title bout with undefeated world champion Terry Flanagen at the Manc Read Full Story >>>
Arum issues ultimatum to Pacquiao
By Nick Giongco, The Manila Bulletin, Wed, 29 Mar 2017
Top Rank chief Bob Arum is giving Manny Pacquiao 48 hours to make a decision whether he is going to fight or not on July 2 in Brisbane, Australia. While Arum is in constant touch with Pacquiao, through the fighting senator's Canadian adviser Mike Koncz, the 85-year-old Hall of Fame promoter is an Read Full Story >>>
Nacho: Chavez Jr. Will Never Be His Father, But He Can Win
By Miguel Rivera, BoxingScene.com, Wed, 29 Mar 2017
Hall of Fame trainer Nacho Beristain is hoping to groom Julio Cesar Chavez Jr. into a powerful force in their ongoing training camp. Chavez Jr. is preparing for his scheduled grudge match with countryman Saul 'Canelo' Alvarez, which takes place on May 6th from the T-Mobile Arena in Las Vegas. Read Full Story >>>
Exclusive: Holyfield explains why no Tyson ear-bite grudges, probes invincibility of 80's version
By Phil D. Jay, World Boxing News, Wed, 29 Mar 2017
Heavyweight great Evander Holyfield is the epitome of a forgiving man. A religious soul who refuses to hold on to negatives in what can be one of the most unforgiving battlegrounds around – the boxing ring. In a career spanning five decades, the now 54 year-old two-weight undisputed champion of t Read Full Story >>>
What Can Save HBO Boxing Now?
By Danny Howard, The Boxing Tribune, Wed, 29 Mar 2017
We need to take a second here and just be totally honest with ourselves: HBO Boxing is no longer deserving of the distinction of being the "Network of Champions," but more so "Relic of Yesteryear." This isn't coming as a delayed reaction to yet another underperforming pay-per-view, the second sta Read Full Story >>>
Fantasy Springs Notebook: Tim "Desert Storm" Bradley and More
By David A. Avila, The Sweet Science, Wed, 29 Mar 2017
Like a ghost from the recent past Tim "Desert Storm" Bradley showed up at the recent heavy-loaded fight card in Indio. "I've been laying low," said Bradley. "Just taking it easy." The former super lightweight and welterweight world champion Bradley was last seen almost a year ago, April 2016 t Read Full Story >>>
GAB wants boxing reforms, too
By Recah Trinidad, PhilBoxing.com, Tue, 28 Mar 2017



IT was inevitable that the proposal for the creation of a Philippine Boxing Commission has escalated into a tug-of-war between boxing superhero Manny Pacquiao, the main proponent, and the Games and Amusement Board (GAB). Read Full Story >>>
Abel Sanchez: "Jacobs gave us the toughest fight of Golovkin's career. We fought a better fight and we did the things necessary to get the rounds"
By Jenna Jay, OTR Boxing Radio, Tue, 28 Mar 2017
Abel Sanchez and IBO middleweight champion Gennady Golovkin are coming off of their closest fight together after Daniel Jacobs took the match to the full twelve round distance and made the bout a close scored contest. Jacobs, who was listed by some bookies as a 8-1 underdog, got knocked down early a Read Full Story >>>
Amir Khan Eager to Test Out His Surgically Repaired Right Hand
By Keith Idec, BoxingScene.com, Tue, 28 Mar 2017
Whoever he fights next, Amir Khan will be anxious about testing his right hand in his first fight following surgery to reconstruct it. Khan, long bothered by pain in his right hand, underwent an extensive procedure in September. The two-hour surgery involved inserting "six or seven screws" in Kha Read Full Story >>>
KATIANDAGHO TO CHALLENGE FOLEY FOR WBA OCEANIA CROWN
By Lito delos Reyes, PhilBoxing.com, Tue, 28 Mar 2017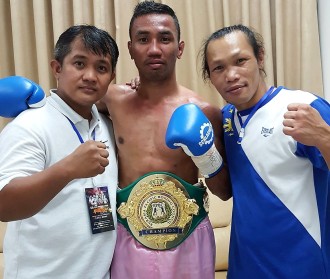 SONNY "Pinoy Hearns" Katiandagho (11-1-0, 6 KOs) of General Santos City will be challenging WBA Oceania super lightweight champion Darragh Foley (10-2-0) of United Kingdom on April 8 at the Doltone House in Sylvania Waters, N Read Full Story >>>
Mayweather-McGregor bout disastrous for UFC - De La Hoya
Yahoo! Sports, Tue, 28 Mar 2017
Oscar De La Hoya believes a potential mega-money fight between Floyd Mayweather Jr and Conor McGregor would be disastrous for UFC. UFC president Dana White recently suggested the bout is inevitable following months of posturing from the pair. McGregor has vowed to knock out the retired Mayweat Read Full Story >>>
Manny Pacquiao Now Reduced into Playing More as Ambassador for the Sport?
By Unofre Pili, Sports World News, Tue, 28 Mar 2017
Probably that Nov. 2016 fight against Jessie Vargas will be Manny Pacquiao's last fight to be held in American soil as he rides into the sunset of his illustrious career. After winning the WBO welterweight world championship from the game but not as talented Vargas, Bob Arum, Pacquiao's long-time pr Read Full Story >>>
I Don't Really Care If GGG And Canelo Never Fight. And You Shouldn't, Either.
By Sean Crose, Boxing Insider, Tue, 28 Mar 2017
I've been reading quite a lot of comments from boxing's new breed of fan lately – you know, those fans who cheer on boxers for their earning potentials and capital rather than their skills in the ring. As far as these new breeds seem to be concerned, Canelo Alvarez is the pound for pound best boxer Read Full Story >>>
De La Hoya Cautions: Canelo Can Not Lose To a Countryman
By Miguel Rivera, BoxingScene.com, Tue, 28 Mar 2017
According to Golden Boy Promotions CEO Oscar de la Hoya, the upcoming fight between Saul "Canelo" Alvarez and Julio Cesar Chavez Jr. will be a breath of fresh air and necessary for the world of boxing. He's so confident that it's going to be a great fight, that he believes the contest will crown Read Full Story >>>
10 events that defined Las Vegas sports history
By Ron Kantowski, Las Vegas Review Journal, Tue, 28 Mar 2017
A look at the seminal events that have helped shaped Las Vegas' sporting landscape: RAIDERS MOVE TO LAS VEGAS Elvis left the building in 1977, and the NFL's Raiders will enter it in 2020 — and perhaps even sooner, if Sam Boyd Stadium receives a makeover. Does it get any bigger than an NFL team Read Full Story >>>
DAVID LEMIEUX MAKES QUICK RETURN AGAINST DORADO REYES ON CANELO-CHAVEZ JR CARD
PhilBoxing.com, Tue, 28 Mar 2017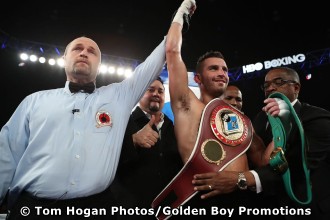 IN PAY-PER-VIEW EXTRAVAGANZA OPENER, SOMEONE'S '0' MUST GO AS FORMER OLYMPIAN JOSEPH DIAZ, JR. BATTLES MANUEL AVILA IN FIGHT BETWEEN UNDEFEATED WARRIORS FOR NABF FEATHERWIGHT TITLE SOLD OUT MAY 6 SLUGFESTS CAN STILL BE Read Full Story >>>
Billy Joe Saunders gives Gennady Golovkin deadline of Friday to agree fight
By Chris McKenna, Daily Star (UK), Tue, 28 Mar 2017
The WBO middleweight champion has set a deadline for the contracts to be signed for the unification clash or he insists he will look at alternative options. WBA, IBF and WBC champion Golovkin recently outpointed American Daniel Jacobs in a bruising contest in New York. He is keen to fight in h Read Full Story >>>
HASIM RAHMAN JR. PRO DEBUT MOVED TO FRIDAY, APRIL 14 MGM NATIONAL HARBOR IN OXON HILL, MD
PhilBoxing.com, Tue, 28 Mar 2017
RAHMAN TO FACE IMES ON UNDERCARD OF BLOCKBUSTER SHOBOX EVENT NEW YORK (March 27, 2017) - When promoter Greg Cohen announced he had finalized arrangements for his next event, the decision to delay his promising heavyweight hopeful, Hasim Rahman Jr.'s, professional boxing debut two more weeks be Read Full Story >>>
FORTUNA RENEWS PROMOTIONAL AGREEMENT WITH SAMPSON BOXING
PhilBoxing.com, Tue, 28 Mar 2017
Former WBA Featherweight and Super Featherweight Champion Javier "El Abejon" Fortuna (31-1-1, 22 KOs) has renewed his long-term promotional agreement with promoter Sampson Lewkowicz and Sampson Boxing. From La Romana, Dominican Republic, the 27-year-old Fortuna has won two straight since droppin Read Full Story >>>
Exclusive: Billy Joe Saunders keen to finalize Gennady Golovkin undisputed unification fight
By Phil D. Jay, World Boxing News, Tue, 28 Mar 2017
Billy Joe Saunders has urged Gennady Golovkin and his team to get moving on the paperwork for a summer middleweight unification for the undisputed title. Saunders, the WBO champion, has been linked to fighting the holder of the four other straps on June 10 in Kazakhstan and the Londoner wants to Read Full Story >>>
EXCLUSIVE: Scott Quigg reveals world champion ambitions after LA move
By Chris McKenna, Daily Star (UK), Tue, 28 Mar 2017
The former WBA super-bantamweight champion has swapped Bury for the Golden State as he goes in search of a world title at featherweight. Quigg surprisingly split with long-time trainer Joe Gallagher last month to move to America and link up with legendary coach Freddie Roach. The 28-year-old f Read Full Story >>>
Maccow confident he'll dethrone Marrero next Friday in highly-anticipated junior welterweight battle
PhilBoxing.com, Mon, 27 Mar 2017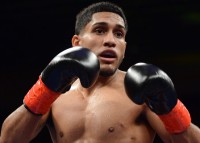 Maccow. PROVIDENCE, R.I. (March 27th, 2017) -- Sidney Maccow isn't coming to Rhode Island next week to mince words or shake off ring rust. He's coming to steal the show. The confident New Yorker ends a 16-month layoff Frida Read Full Story >>>
Top Russian heavyweight Sergei Kharitonov Commits to fighting on M-1 Challenge 80 card
PhilBoxing.com, Mon, 27 Mar 2017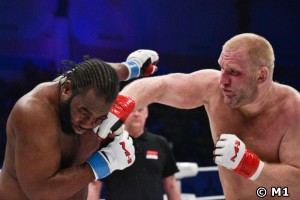 MOSCOW (March 27, 2017) - Russian heavyweight Sergei "The Paratrooper" Kharitonov has committed to fighting June 15 on the M-1 Challenge 80 card in Harbin, China. Kharitonov will square-off against veteran Brazilian MMA fi Read Full Story >>>
Philippine Boxing Commission
By Vincent Juico, Business Mirror, Mon, 27 Mar 2017
ONE of the literally most debated issues now in the country, especially in the Senate, is the law that proposes the creation of the Philippine Boxing Commission (PBC). The main sponsor of the PBC is, of course, eight-time world champion and former congressman, now Senator, Manny Pacquiao. The mai Read Full Story >>>
Boxing for MMA: Fisticuffs for the Freestyle Fighter - Part One: The Guard
By Connor Ruebusch , Bloody Elbow, Mon, 27 Mar 2017
So, you want to be able to hit people and drag them into a hellish world of suffocating misery on the ground? Then MMA is the sport for you! Face-punching is a big part of mixed martial arts. Though MMA fighters have at their disposal a whole host of striking weapons, ranging from the balls of th Read Full Story >>>
PSC Chair Ramirez graces ABAP event
PhilBoxing.com, Mon, 27 Mar 2017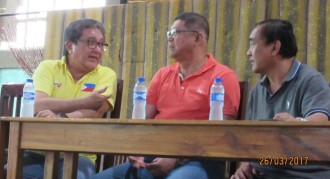 La Trinidad, Benguet Province- Philippine Sports Commission Chairman William "Butch" Ramirez graced the boxing matches held as part of the celebration of the 36th Strawberry Festival in this mountain town Sunday. The e Read Full Story >>>
OPBF TITLE SHOT IN JAPAN LOOMS FOR HERMANATOR
PhilBoxing.com, Mon, 27 Mar 2017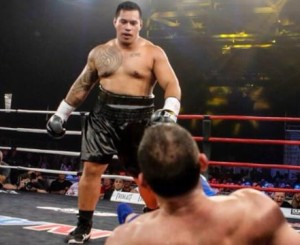 ENE-PURCELL IN NEGOTIATIONS TO FACE OPBF CHAMP IN JAPAN NEWLY CROWNED BRAYD SMITH WUC HEAVYWEIGHT champion Herman Ene-Purcell is on the verge of earning a shot at OPBF champion Kyotara Fujimoto in Tokyo, Japan in May. Read Full Story >>>
Vasyl Lomachenko: Enter the Matrix
By Francisco Martinez, Boxing Insider, Mon, 27 Mar 2017
April 8th Vasyl Lomachenko enters the ring once again and his opponent Jason Sosa will step into the matrix and experience what Lomachenko calls hi-tech. Both fighters have an opponent in common in Nicholas Walters. Sosa went the distance in a majority decision loss to Walters in a fight many though Read Full Story >>>
Manny Pacquiao Chris Van Heerden Bout Would Be a Boon to South African Economy
By Tim Wood, Forbes.com, Mon, 27 Mar 2017
The global marketplace has expanded dramatically over the last two decades, and nowhere is that more on display than the world of prize-fight boxing. Whereas Las Vegas used to be the sole location for the biggest fights of the year, promoters and boxers alike are realizing that there are a multit Read Full Story >>>
Porter Hopes Pacquiao Retires, Says Khan Has Skills To Beat Anyone
By Ryan Burton, BoxingScene.com, Mon, 27 Mar 2017
May 20th was the last date mentioned for a possible welterweight showdown between WBO champion Manny Pacquiao and British superstar Amir Khan. Last month, the former sparring partners took to their verified Twitter accounts to confirm that a deal had been reached to face each other, but when inve Read Full Story >>>
Conor McGregor not good enough to beat Floyd Mayweather according to top trainer Freddie Roach
By Alex Smith, mirror.co.uk, Mon, 27 Mar 2017
Top trainer Freddie Roach has slammed Conor McGregor's chances of beating Floyd Mayweather Jr . Roach has savaged UFC star McGregor's boxing chances ahead of a superfight with legendary boxer Mayweather. 'The Choir Boy' is viewed as one of the best tacticians in the sport and cornered Manny P Read Full Story >>>
Peter Fury: "Hughie Fury is a lot stronger than what he was and I think the more Parker presses, the better it is for Hughie!"
By Robert Brown, OTR Boxing Radio, Mon, 27 Mar 2017
Boxing trainer, Peter Fury, is hoping to turn his second fighter into a world champion when his son Hughie Fury faces Joseph Parker for the WBO heavyweight title on May 6th. Peter Fury, who is a former fighter himself, had troubles obtaining a visa to train his son in New Zealand, but was granted a Read Full Story >>>
Rolando Navarette: Bad Boy no more
By Nick Giongco, Tempo, Mon, 27 Mar 2017
Three decades removed from the trappings of fame, he remains a crowd darling and it was evident late Saturday night when people gathered around him that Rolando Navarette has not cease to become an attraction. As he slowly made his way out of the venue, Navarette was met by smart-phone wielding Read Full Story >>>
Classic Fights: Marciano KOs Charles
By Robert Ecksel, Boxing.com, Mon, 27 Mar 2017
"Ezzard Charles was the toughest man I ever fought," said Marciano. "I learned what pain was all about when I fought him…" "What could be better than walking down any street in any city and knowing you're the heavyweight champion of the world?"—Rocky Marciano On September 17, 1954, at Yankee S Read Full Story >>>
2016 Olympic Bronze medalist Nico Hernandez Shines in professional debut win at home
PhilBoxing.com, Sun, 26 Mar 2017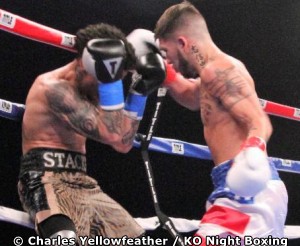 MULVANE, Kansas (March 25, 2017) -- A future star was born last night as 2016 Olympic bronze medalist Nico Hernandez turned in a stellar performance in his professional debut, stopping Pat "Slacks" Gutierrez in the fourt Read Full Story >>>
Hard work a must to succeed – Elorde awardees
By Josef T. Ramos, The Manila Times, Sun, 26 Mar 2017
Gabriel "Flash" Elorde's Boxers of the Year awardees bantamweight fighter Marlon Tapales and Jerwin Ancajas knew the value of hard work. And that's what they are preaching to those who want to make a career in boxing. Speaking during the 17th Gabriel "Flash" Elorde Memorial Awards and Banquet of Read Full Story >>>
Julio Cesar Chavez Jr. a massive underdog to defeat Canelo Alvarez
World Boxing News, Sun, 26 Mar 2017
In a huge Mexican clash on the Cinco de Mayo celebration weekend in Las Vegas, Julio Cesar Chavez Jr. bids to emulate his famous father to become the best fighter from his country. Junior, a former middleweight world champion, has gone years without enjoying his previous successes and now faces t Read Full Story >>>
"KUMBINASYON"


Filipino boxing legend Manny Pacquiao resumes his regular column at PhilBoxing.com and now Bandera to express his own thoughts and to be able to communicate to his fans worldwide.


Latest posts from the Forum...
Philippine time (GMT +8)

New members, please read the FORUM RULES before you post.
Not yet a member? Click HERE to register.


rizalincarnate: Pacquiao, great Pinoy boxer; Duterte, great Pinoy president, 6:52 pm, 03-29-17



lur_ker: Pacquiao, great Pinoy boxer; Duterte, great Pinoy president, 6:50 pm, 03-29-17



boxing_the_no1_sport: BOXING THE NO. 1 SPORT, 6:38 pm, 03-29-17



boxing_the_no1_sport: BOXING THE NO. 1 SPORT, 6:36 pm, 03-29-17



boxing_the_no1_sport: BOXING THE NO. 1 SPORT, 6:28 pm, 03-29-17



boxing_the_no1_sport: BOXING THE NO. 1 SPORT, 6:23 pm, 03-29-17



clilkiday: ????? 1, 6:21 pm, 03-29-17



boxing_the_no1_sport: BOXING THE NO. 1 SPORT, 6:15 pm, 03-29-17



boxing_the_no1_sport: BOXING THE NO. 1 SPORT, 6:14 pm, 03-29-17



chitotwothousandseven: :::::CLEVELAND CAVALIERS:::::, 6:11 pm, 03-29-17



boxing_the_no1_sport: BOXING THE NO. 1 SPORT, 6:04 pm, 03-29-17



boxing_the_no1_sport: BOXING THE NO. 1 SPORT, 6:03 pm, 03-29-17



boxing_the_no1_sport: BOXING THE NO. 1 SPORT, 5:59 pm, 03-29-17



boxing_the_no1_sport: BOXING THE NO. 1 SPORT, 5:57 pm, 03-29-17



boxing_the_no1_sport: BOXING THE NO. 1 SPORT, 5:54 pm, 03-29-17



reigncourts: Pacquiao, great Pinoy boxer; Duterte, great Pinoy president, 5:41 pm, 03-29-17



clilkiday: Alien Isolation-CODEX, 5:12 pm, 03-29-17



joeyj: * PROJECT: WC Candidates Tournament Qualifier Wesley So, 5:06 pm, 03-29-17



joeyj: * PROJECT: WC Candidates Tournament Qualifier Wesley So, 5:05 pm, 03-29-17



zorro05: :::::CLEVELAND CAVALIERS:::::, 5:02 pm, 03-29-17



Romy Nabas: :::::CLEVELAND CAVALIERS:::::, 4:45 pm, 03-29-17



Romy Nabas: VOTE NOW FOR PAC TO BE IN #1 IN P4P RING MAG SURVEY, 4:44 pm, 03-29-17



Romy Nabas: ::OFFICIAL MIAMI HEAT THREAD::, 4:43 pm, 03-29-17



el-oro: VOTE NOW FOR PAC TO BE IN #1 IN P4P RING MAG SURVEY, 4:41 pm, 03-29-17



el-oro: VOTE NOW FOR PAC TO BE IN #1 IN P4P RING MAG SURVEY, 4:38 pm, 03-29-17



KIEZERKENT: * PROJECT: WC Candidates Tournament Qualifier Wesley So, 4:32 pm, 03-29-17



joeyj: * PROJECT: WC Candidates Tournament Qualifier Wesley So, 4:29 pm, 03-29-17



Retz: STEVE WOOD ON FLANAGAN: 'MANCHESTER HAS BACKED THE WRONG HOR, 3:00 pm, 03-29-17



Retz: 'Dangerous' Daniel Dubois will make his highly-anticipated p, 2:59 pm, 03-29-17



Retz: BROOK VS. SPENCE TICKETS ON SALE ON THURSDAY, 2:58 pm, 03-29-17



panday: Pacquiao must say NO to Arum's deadline, 2:10 pm, 03-29-17



<-lokim->: :::::CLEVELAND CAVALIERS:::::, 1:34 pm, 03-29-17



IceColdBeer: Pacquiao, great Pinoy boxer; Duterte, great Pinoy president, 1:27 pm, 03-29-17



reigncourts: Pacquiao, great Pinoy boxer; Duterte, great Pinoy president, 1:20 pm, 03-29-17



reigncourts: Pacquiao, great Pinoy boxer; Duterte, great Pinoy president, 1:18 pm, 03-29-17



gambol: Pacquiao, great Pinoy boxer; Duterte, great Pinoy president, 12:38 pm, 03-29-17



IceColdBeer: Pacquiao, great Pinoy boxer; Duterte, great Pinoy president, 11:59 am, 03-29-17



Junorz: Pacquiao, great Pinoy boxer; Duterte, great Pinoy president, 11:48 am, 03-29-17



reigncourts: Pacquiao, great Pinoy boxer; Duterte, great Pinoy president, 11:18 am, 03-29-17



boxing_the_no1_sport: :::::CLEVELAND CAVALIERS:::::, 8:59 am, 03-29-17



boxing_the_no1_sport: BOXING THE NO. 1 SPORT, 8:54 am, 03-29-17



boxing_the_no1_sport: BOXING THE NO. 1 SPORT, 8:51 am, 03-29-17



boxing_the_no1_sport: BOXING THE NO. 1 SPORT, 8:49 am, 03-29-17



boxing_the_no1_sport: BOXING THE NO. 1 SPORT, 8:45 am, 03-29-17



boxing_the_no1_sport: BOXING THE NO. 1 SPORT, 8:42 am, 03-29-17



boxing_the_no1_sport: BOXING THE NO. 1 SPORT, 8:41 am, 03-29-17



boxing_the_no1_sport: BOXING THE NO. 1 SPORT, 8:39 am, 03-29-17



boxing_the_no1_sport: BOXING THE NO. 1 SPORT, 8:36 am, 03-29-17



zorro05: :::::CLEVELAND CAVALIERS:::::, 8:36 am, 03-29-17



zorro05: :::::CLEVELAND CAVALIERS:::::, 8:28 am, 03-29-17



noypinga: Pacquiao, great Pinoy boxer; Duterte, great Pinoy president, 8:17 am, 03-29-17



chitotwothousandseven: :::::CLEVELAND CAVALIERS:::::, 5:55 am, 03-29-17



rizalincarnate: Pacquiao, great Pinoy boxer; Duterte, great Pinoy president, 5:46 am, 03-29-17



rizalincarnate: Pacquiao, great Pinoy boxer; Duterte, great Pinoy president, 5:29 am, 03-29-17



phillyboxing: 2 TIME WORLD CHAMPION & OLYMPIC GOLD MEDAL WINNER YURIOR, 4:00 am, 03-29-17



doubleblade29: Pacquiao, great Pinoy boxer; Duterte, great Pinoy president, 2:52 am, 03-29-17



phillyboxing: BROOK VS. SPENCE TICKETS ON SALE ON THURSDAY, 1:30 am, 03-29-17



phillyboxing: 'Dangerous' Daniel Dubois will make his highly-anticipated p, 1:02 am, 03-29-17



phillyboxing: QUIGG FACES SIMION AT WEMBLEY STADIUM, 12:59 am, 03-29-17



lur_ker: Pacquiao, great Pinoy boxer; Duterte, great Pinoy president, 12:26 am, 03-29-17



rizalincarnate: Pacquiao, great Pinoy boxer; Duterte, great Pinoy president, 12:20 am, 03-29-17



phillyboxing: STEVE WOOD ON FLANAGAN: 'MANCHESTER HAS BACKED THE WRONG HOR, 11:49 pm, 03-28-17



IceColdBeer: Pacquiao, great Pinoy boxer; Duterte, great Pinoy president, 11:39 pm, 03-28-17



rizalincarnate: Pacquiao, great Pinoy boxer; Duterte, great Pinoy president, 11:10 pm, 03-28-17



IceColdBeer: Pacquiao, great Pinoy boxer; Duterte, great Pinoy president, 10:48 pm, 03-28-17



reigncourts: Pacquiao, great Pinoy boxer; Duterte, great Pinoy president, 10:44 pm, 03-28-17



Romy Nabas: :::::CLEVELAND CAVALIERS:::::, 10:39 pm, 03-28-17



reigncourts: Pacquiao, great Pinoy boxer; Duterte, great Pinoy president, 10:30 pm, 03-28-17



IceColdBeer: THOUSAND OF FB GHOST ACCOUNTS AGAINST DIGONG, 10:25 pm, 03-28-17



JABEZJ: THOUSAND OF FB GHOST ACCOUNTS AGAINST DIGONG, 10:23 pm, 03-28-17



IceColdBeer: THOUSAND OF FB GHOST ACCOUNTS AGAINST DIGONG, 10:21 pm, 03-28-17



JABEZJ: :::::CLEVELAND CAVALIERS:::::, 10:13 pm, 03-28-17



JABEZJ: THOUSAND OF FB GHOST ACCOUNTS AGAINST DIGONG, 10:07 pm, 03-28-17



IceColdBeer: THOUSAND OF FB GHOST ACCOUNTS AGAINST DIGONG, 10:05 pm, 03-28-17



JABEZJ: THOUSAND OF FB GHOST ACCOUNTS AGAINST DIGONG, 10:04 pm, 03-28-17



IceColdBeer: THOUSAND OF FB GHOST ACCOUNTS AGAINST DIGONG, 10:03 pm, 03-28-17



FunkyDog: Pacquiao, great Pinoy boxer; Duterte, great Pinoy president, 10:03 pm, 03-28-17



Bolo_Punch: :::::CLEVELAND CAVALIERS:::::, 10:02 pm, 03-28-17



JABEZJ: THOUSAND OF FB GHOST ACCOUNTS AGAINST DIGONG, 10:02 pm, 03-28-17



IceColdBeer: THOUSAND OF FB GHOST ACCOUNTS AGAINST DIGONG, 10:01 pm, 03-28-17



JABEZJ: THOUSAND OF FB GHOST ACCOUNTS AGAINST DIGONG, 9:55 pm, 03-28-17



IceColdBeer: Pacquiao, great Pinoy boxer; Duterte, great Pinoy president, 9:52 pm, 03-28-17



IceColdBeer: THOUSAND OF FB GHOST ACCOUNTS AGAINST DIGONG, 9:52 pm, 03-28-17



JABEZJ: THOUSAND OF FB GHOST ACCOUNTS AGAINST DIGONG, 9:50 pm, 03-28-17



IceColdBeer: THOUSAND OF FB GHOST ACCOUNTS AGAINST DIGONG, 9:49 pm, 03-28-17



IceColdBeer: Pacquiao, great Pinoy boxer; Duterte, great Pinoy president, 9:48 pm, 03-28-17



KIEZERKENT: Pacquiao, great Pinoy boxer; Duterte, great Pinoy president, 9:47 pm, 03-28-17



JABEZJ: Pacquiao, great Pinoy boxer; Duterte, great Pinoy president, 9:47 pm, 03-28-17



JABEZJ: THOUSAND OF FB GHOST ACCOUNTS AGAINST DIGONG, 9:45 pm, 03-28-17



IceColdBeer: THOUSAND OF FB GHOST ACCOUNTS AGAINST DIGONG, 9:44 pm, 03-28-17



IceColdBeer: Pacquiao, great Pinoy boxer; Duterte, great Pinoy president, 9:43 pm, 03-28-17



JABEZJ: THOUSAND OF FB GHOST ACCOUNTS AGAINST DIGONG, 9:42 pm, 03-28-17



IceColdBeer: THOUSAND OF FB GHOST ACCOUNTS AGAINST DIGONG, 9:41 pm, 03-28-17



rizalincarnate: Pacquiao, great Pinoy boxer; Duterte, great Pinoy president, 9:40 pm, 03-28-17



IceColdBeer: Pacquiao, great Pinoy boxer; Duterte, great Pinoy president, 9:39 pm, 03-28-17



KIEZERKENT: THOUSAND OF FB GHOST ACCOUNTS AGAINST DIGONG, 9:33 pm, 03-28-17



KIEZERKENT: :::::CLEVELAND CAVALIERS:::::, 9:31 pm, 03-28-17



reigncourts: Pacquiao, great Pinoy boxer; Duterte, great Pinoy president, 9:31 pm, 03-28-17



IceColdBeer: THOUSAND OF FB GHOST ACCOUNTS AGAINST DIGONG, 9:31 pm, 03-28-17



reigncourts: Pacquiao, great Pinoy boxer; Duterte, great Pinoy president, 9:27 pm, 03-28-17



Rodrigo Roxas III: Pacquiao, great Pinoy boxer; Duterte, great Pinoy president, 9:26 pm, 03-28-17



rizalincarnate: Pacquiao, great Pinoy boxer; Duterte, great Pinoy president, 9:22 pm, 03-28-17



Emmanuel53: Pacquiao, great Pinoy boxer; Duterte, great Pinoy president, 9:21 pm, 03-28-17



KIEZERKENT: THOUSAND OF FB GHOST ACCOUNTS AGAINST DIGONG, 9:20 pm, 03-28-17



Rodrigo Roxas III: THOUSAND OF FB GHOST ACCOUNTS AGAINST DIGONG, 9:19 pm, 03-28-17



JABEZJ: THOUSAND OF FB GHOST ACCOUNTS AGAINST DIGONG, 9:14 pm, 03-28-17



Emmanuel53: Pacquiao, great Pinoy boxer; Duterte, great Pinoy president, 9:11 pm, 03-28-17



reigncourts: Pacquiao, great Pinoy boxer; Duterte, great Pinoy president, 9:11 pm, 03-28-17



odd.man: Pacquiao, great Pinoy boxer; Duterte, great Pinoy president, 9:10 pm, 03-28-17



IceColdBeer: THOUSAND OF FB GHOST ACCOUNTS AGAINST DIGONG, 9:06 pm, 03-28-17



JABEZJ: THOUSAND OF FB GHOST ACCOUNTS AGAINST DIGONG, 9:02 pm, 03-28-17



rizalincarnate: Pacquiao, great Pinoy boxer; Duterte, great Pinoy president, 9:00 pm, 03-28-17



IceColdBeer: THOUSAND OF FB GHOST ACCOUNTS AGAINST DIGONG, 8:58 pm, 03-28-17



boxing_the_no1_sport: BASKETBALL NEWS AND VIEWS, 8:58 pm, 03-28-17



JABEZJ: THOUSAND OF FB GHOST ACCOUNTS AGAINST DIGONG, 8:56 pm, 03-28-17



IceColdBeer: THOUSAND OF FB GHOST ACCOUNTS AGAINST DIGONG, 8:56 pm, 03-28-17



boxing_the_no1_sport: BASKETBALL NEWS AND VIEWS, 8:55 pm, 03-28-17



rizalincarnate: Pacquiao, great Pinoy boxer; Duterte, great Pinoy president, 8:53 pm, 03-28-17



odd.man: Pacquiao, great Pinoy boxer; Duterte, great Pinoy president, 8:52 pm, 03-28-17



JABEZJ: THOUSAND OF FB GHOST ACCOUNTS AGAINST DIGONG, 8:51 pm, 03-28-17



JABEZJ: :::::CLEVELAND CAVALIERS:::::, 8:50 pm, 03-28-17



boxing_the_no1_sport: BASKETBALL NEWS AND VIEWS, 8:45 pm, 03-28-17



boxing_the_no1_sport: BASKETBALL NEWS AND VIEWS, 8:41 pm, 03-28-17



KIEZERKENT: Pacquiao, great Pinoy boxer; Duterte, great Pinoy president, 8:41 pm, 03-28-17



IceColdBeer: Pacquiao, great Pinoy boxer; Duterte, great Pinoy president, 8:39 pm, 03-28-17



boxing_the_no1_sport: BASKETBALL NEWS AND VIEWS, 8:37 pm, 03-28-17



Emmanuel53: Pacquiao, great Pinoy boxer; Duterte, great Pinoy president, 8:36 pm, 03-28-17



boxing_the_no1_sport: BASKETBALL NEWS AND VIEWS, 8:34 pm, 03-28-17



KIEZERKENT: Pacquiao, great Pinoy boxer; Duterte, great Pinoy president, 8:34 pm, 03-28-17



boxing_the_no1_sport: BASKETBALL NEWS AND VIEWS, 8:31 pm, 03-28-17



rizalincarnate: Pacquiao, great Pinoy boxer; Duterte, great Pinoy president, 8:30 pm, 03-28-17



Rodrigo Roxas III: Pacquiao, great Pinoy boxer; Duterte, great Pinoy president, 8:27 pm, 03-28-17



boxing_the_no1_sport: BASKETBALL NEWS AND VIEWS, 8:26 pm, 03-28-17



doubleblade29: Pacquiao, great Pinoy boxer; Duterte, great Pinoy president, 8:22 pm, 03-28-17



boxing_the_no1_sport: BASKETBALL NEWS AND VIEWS, 8:20 pm, 03-28-17



rizalincarnate: Pacquiao, great Pinoy boxer; Duterte, great Pinoy president, 8:19 pm, 03-28-17



Rodrigo Roxas III: Pacquiao, great Pinoy boxer; Duterte, great Pinoy president, 8:17 pm, 03-28-17



doubleblade29: Pacquiao, great Pinoy boxer; Duterte, great Pinoy president, 8:16 pm, 03-28-17



boxing_the_no1_sport: BASKETBALL NEWS AND VIEWS, 8:13 pm, 03-28-17



Dalubhasa: Golovkin – Jacobs generates around 170,000 PPV buys, 8:13 pm, 03-28-17



boxing_the_no1_sport: BASKETBALL NEWS AND VIEWS, 8:11 pm, 03-28-17



Emmanuel53: Pacquiao, great Pinoy boxer; Duterte, great Pinoy president, 8:07 pm, 03-28-17



boxing_the_no1_sport: BASKETBALL NEWS AND VIEWS, 8:04 pm, 03-28-17



boxing_the_no1_sport: BASKETBALL NEWS AND VIEWS, 8:01 pm, 03-28-17



boxing_the_no1_sport: BASKETBALL NEWS AND VIEWS, 7:59 pm, 03-28-17



boxing_the_no1_sport: BASKETBALL NEWS AND VIEWS, 7:57 pm, 03-28-17



Emmanuel53: Pacquiao, great Pinoy boxer; Duterte, great Pinoy president, 7:48 pm, 03-28-17



rizalincarnate: Pacquiao, great Pinoy boxer; Duterte, great Pinoy president, 7:22 pm, 03-28-17



KIEZERKENT: THOUSAND OF FB GHOST ACCOUNTS AGAINST DIGONG, 7:17 pm, 03-28-17



KIEZERKENT: Pacquiao, great Pinoy boxer; Duterte, great Pinoy president, 7:15 pm, 03-28-17



rizalincarnate: Pacquiao, great Pinoy boxer; Duterte, great Pinoy president, 7:11 pm, 03-28-17



IceColdBeer: THOUSAND OF FB GHOST ACCOUNTS AGAINST DIGONG, 6:57 pm, 03-28-17



Keep Punching: THOUSAND OF FB GHOST ACCOUNTS AGAINST DIGONG, 6:33 pm, 03-28-17



Rodrigo Roxas III: THOUSAND OF FB GHOST ACCOUNTS AGAINST DIGONG, 6:14 pm, 03-28-17



bugoyparin: THOUSAND OF FB GHOST ACCOUNTS AGAINST DIGONG, 6:09 pm, 03-28-17



bugoyparin: THOUSAND OF FB GHOST ACCOUNTS AGAINST DIGONG, 6:08 pm, 03-28-17



jhon515: THOUSAND OF FB GHOST ACCOUNTS AGAINST DIGONG, 6:05 pm, 03-28-17



gambol: THOUSAND OF FB GHOST ACCOUNTS AGAINST DIGONG, 6:02 pm, 03-28-17



Rodrigo Roxas III: THOUSAND OF FB GHOST ACCOUNTS AGAINST DIGONG, 5:51 pm, 03-28-17



gambol: THOUSAND OF FB GHOST ACCOUNTS AGAINST DIGONG, 5:44 pm, 03-28-17



Rodrigo Roxas III: THOUSAND OF FB GHOST ACCOUNTS AGAINST DIGONG, 5:40 pm, 03-28-17



boxing_the_no1_sport: THOUSAND OF FB GHOST ACCOUNTS AGAINST DIGONG, 4:54 pm, 03-28-17



Gamby Sucaldito: Pacquiao, great Pinoy boxer; Duterte, great Pinoy president, 4:53 pm, 03-28-17



boxing_the_no1_sport: KO KING OKOLIE ADDED TO GLASGOW BILL, 4:52 pm, 03-28-17



boxing_the_no1_sport: Fearless Felix ends 14-month layoff Friday, 4:48 pm, 03-28-17



gbh32001: Pacquiao, great Pinoy boxer; Duterte, great Pinoy president, 4:48 pm, 03-28-17



boxing_the_no1_sport: Maccow: "I will stop Marrero April 7th!", 4:45 pm, 03-28-17



mel4gov: Pacquiao, great Pinoy boxer; Duterte, great Pinoy president, 4:41 pm, 03-28-17



boxing_the_no1_sport: Golovkin – Jacobs generates around 170,000 PPV buys, 4:39 pm, 03-28-17



Numero uno: Pacquiao, great Pinoy boxer; Duterte, great Pinoy president, 4:39 pm, 03-28-17



boxing_the_no1_sport: BOXING THE NO. 1 SPORT, 4:37 pm, 03-28-17



boxing_the_no1_sport: BOXING THE NO. 1 SPORT, 4:35 pm, 03-28-17



boxing_the_no1_sport: BOXING THE NO. 1 SPORT, 4:31 pm, 03-28-17



boxing_the_no1_sport: BOXING THE NO. 1 SPORT, 4:30 pm, 03-28-17



Gamby Sucaldito: THOUSAND OF FB GHOST ACCOUNTS AGAINST DIGONG, 4:29 pm, 03-28-17



pubringjuandelacruz: :::::CLEVELAND CAVALIERS:::::, 4:21 pm, 03-28-17



pubringjuandelacruz: THOUSAND OF FB GHOST ACCOUNTS AGAINST DIGONG, 4:14 pm, 03-28-17



clilkiday: Tom Taylor - The Crossing, 4:04 pm, 03-28-17



phillyboxing: Golovkin – Jacobs generates around 170,000 PPV buys, 3:02 pm, 03-28-17



clilkiday: Game.of.Silence.S01E10.FiNAL.FRENCH.HDTV.XviD-ZT(N) (A), 12:56 pm, 03-28-17



whinz: * PROJECT: WC Candidates Tournament Qualifier Wesley So, 12:35 pm, 03-28-17



noypinga: * PROJECT: WC Candidates Tournament Qualifier Wesley So, 12:30 pm, 03-28-17



Junorz: Pacquiao, great Pinoy boxer; Duterte, great Pinoy president, 11:50 am, 03-28-17



Rodrigo Roxas III: Pacquiao, great Pinoy boxer; Duterte, great Pinoy president, 11:27 am, 03-28-17



whitexadow: THOUSAND OF FB GHOST ACCOUNTS AGAINST DIGONG, 11:27 am, 03-28-17



IceColdBeer: Pacquiao, great Pinoy boxer; Duterte, great Pinoy president, 11:07 am, 03-28-17



Keep Punching: Pacquiao, great Pinoy boxer; Duterte, great Pinoy president, 10:59 am, 03-28-17



IceColdBeer: Philippines: 3rd Worst ASEAN country, 10:53 am, 03-28-17



IceColdBeer: Pacquiao, great Pinoy boxer; Duterte, great Pinoy president, 10:51 am, 03-28-17



Keep Punching: Pacquiao, great Pinoy boxer; Duterte, great Pinoy president, 10:43 am, 03-28-17



Retz: FORTUNA RENEWS PROMOTIONAL AGREEMENT WITH SAMPSON BOXING, 10:34 am, 03-28-17



IceColdBeer: Pacquiao, great Pinoy boxer; Duterte, great Pinoy president, 10:28 am, 03-28-17



Roughneck528: :::::CLEVELAND CAVALIERS:::::, 10:11 am, 03-28-17



phillyboxing: FORTUNA RENEWS PROMOTIONAL AGREEMENT WITH SAMPSON BOXING, 10:00 am, 03-28-17



Ersatz: Pacquiao, great Pinoy boxer; Duterte, great Pinoy president, 9:58 am, 03-28-17



tiyanak2: Pacquiao, great Pinoy boxer; Duterte, great Pinoy president, 9:54 am, 03-28-17



Ersatz: Pacquiao, great Pinoy boxer; Duterte, great Pinoy president, 9:53 am, 03-28-17



clilkiday: OO Defrag Professional Edition 20 0 Build 427 - 32bit 64bit , 9:52 am, 03-28-17



karateph: * PROJECT: WC Candidates Tournament Qualifier Wesley So, 9:51 am, 03-28-17



theboxer69: :::::CLEVELAND CAVALIERS:::::, 9:45 am, 03-28-17



FunkyDog: Pacquiao, great Pinoy boxer; Duterte, great Pinoy president, 9:44 am, 03-28-17



zorro05: :::::CLEVELAND CAVALIERS:::::, 9:20 am, 03-28-17



Roughneck528: :::::CLEVELAND CAVALIERS:::::, 9:17 am, 03-28-17



theboxer69: :::::CLEVELAND CAVALIERS:::::, 8:56 am, 03-28-17



black bishop: * PROJECT: WC Candidates Tournament Qualifier Wesley So, 8:49 am, 03-28-17



reigncourts: Pacquiao, great Pinoy boxer; Duterte, great Pinoy president, 8:48 am, 03-28-17



zorro05: :::::CLEVELAND CAVALIERS:::::, 8:44 am, 03-28-17



Keep Punching: Pacquiao, great Pinoy boxer; Duterte, great Pinoy president, 8:43 am, 03-28-17



Retz: Top Russian heavyweight Sergei Kharitonov Commits to fightin, 8:38 am, 03-28-17



Retz: KNOCKOUT ARTIST DAVID LEMIEUX TO MAKE QUICK RETURN AFTER 201, 8:32 am, 03-28-17



Retz: HASIM RAHMAN JR. PRO DEBUT MOVED TO FRIDAY, APRIL 14 MGM NAT, 8:31 am, 03-28-17



reigncourts: Pacquiao, great Pinoy boxer; Duterte, great Pinoy president, 8:31 am, 03-28-17



IceColdBeer: Pacquiao, great Pinoy boxer; Duterte, great Pinoy president, 8:29 am, 03-28-17



Admerald: Pacquiao, great Pinoy boxer; Duterte, great Pinoy president, 8:25 am, 03-28-17



Emmanuel53: Pacquiao, great Pinoy boxer; Duterte, great Pinoy president, 8:06 am, 03-28-17



Keep Punching: Pacquiao, great Pinoy boxer; Duterte, great Pinoy president, 8:02 am, 03-28-17



z1ncadd: PACMAN FILED A BILL CREATING PHIL. BOXING COMMISSION, 7:54 am, 03-28-17



Keep Punching: Philippines: 3rd Worst ASEAN country, 7:44 am, 03-28-17



phillyboxing: HASIM RAHMAN JR. PRO DEBUT MOVED TO FRIDAY, APRIL 14 MGM NAT, 7:33 am, 03-28-17



phillyboxing: KNOCKOUT ARTIST DAVID LEMIEUX TO MAKE QUICK RETURN AFTER 201, 7:23 am, 03-28-17



rudscar: * PROJECT: WC Candidates Tournament Qualifier Wesley So, 7:21 am, 03-28-17



phillyboxing: Maccow: "I will stop Marrero April 7th!", 7:10 am, 03-28-17



joeyj: * PROJECT: WC Candidates Tournament Qualifier Wesley So, 7:09 am, 03-28-17



phillyboxing: Video: Watch the HBO Sports Special – 2 Days: Vasyl Lomachen, 7:08 am, 03-28-17



phillyboxing: Fearless Felix ends 14-month layoff Friday, 7:07 am, 03-28-17



phillyboxing: Top Russian heavyweight Sergei Kharitonov Commits to fightin, 7:04 am, 03-28-17



phillyboxing: KO KING OKOLIE ADDED TO GLASGOW BILL, 6:58 am, 03-28-17



clilkiday: MasterChef US S07E07 Vets Jets and Home Cooks HDTV x264-W4F[, 6:48 am, 03-28-17



rizalincarnate: Pacquiao, great Pinoy boxer; Duterte, great Pinoy president, 6:08 am, 03-28-17



rizalincarnate: Pacquiao, great Pinoy boxer; Duterte, great Pinoy president, 5:41 am, 03-28-17



clilkiday: Craft & Vision 2 - More Great Ways to Make Stronger Phot, 3:44 am, 03-28-17



Gamby Sucaldito: Pacquiao, great Pinoy boxer; Duterte, great Pinoy president, 3:18 am, 03-28-17



Gamby Sucaldito: Need help, 3:17 am, 03-28-17



doubleblade29: Pacquiao, great Pinoy boxer; Duterte, great Pinoy president, 3:17 am, 03-28-17



Rodrigo Roxas III: Pacquiao, great Pinoy boxer; Duterte, great Pinoy president, 2:53 am, 03-28-17



TheEnigma: Pacquiao, great Pinoy boxer; Duterte, great Pinoy president, 2:43 am, 03-28-17



Pop days: Need help, 2:31 am, 03-28-17



KIEZERKENT: Pacquiao, great Pinoy boxer; Duterte, great Pinoy president, 2:05 am, 03-28-17



Dalubhasa: Pacquiao, No. 1 P4P fighter?, 1:49 am, 03-28-17



Pinoy62: PACMAN FILED A BILL CREATING PHIL. BOXING COMMISSION, 1:18 am, 03-28-17



JABEZJ: Pacquiao, great Pinoy boxer; Duterte, great Pinoy president, 1:06 am, 03-28-17



Pinoy62: LOMACHENKO, USYK AND GVOZDYK MEDIA WORKOUT QUOTES, 12:47 am, 03-28-17



Gamby Sucaldito: Need help, 12:41 am, 03-28-17



clilkiday: Morris from America (2016), 12:32 am, 03-28-17



Emmanuel53: Pacquiao, great Pinoy boxer; Duterte, great Pinoy president, 12:21 am, 03-28-17



Emmanuel53: Pacquiao, great Pinoy boxer; Duterte, great Pinoy president, 12:11 am, 03-28-17



boxing_the_no1_sport: BOXING THE NO. 1 SPORT, 11:55 pm, 03-27-17



boxing_the_no1_sport: BOXING THE NO. 1 SPORT, 11:54 pm, 03-27-17



boxing_the_no1_sport: BOXING THE NO. 1 SPORT, 11:53 pm, 03-27-17



boxing_the_no1_sport: BOXING THE NO. 1 SPORT, 11:52 pm, 03-27-17



Pop days: Need help, 11:34 pm, 03-27-17



Pop days: Need help, 11:34 pm, 03-27-17



rizalincarnate: Pacquiao, great Pinoy boxer; Duterte, great Pinoy president, 11:23 pm, 03-27-17



IceColdBeer: Pacquiao, great Pinoy boxer; Duterte, great Pinoy president, 11:01 pm, 03-27-17



rizalincarnate: Pacquiao, great Pinoy boxer; Duterte, great Pinoy president, 11:00 pm, 03-27-17



Emmanuel53: Pacquiao, great Pinoy boxer; Duterte, great Pinoy president, 10:51 pm, 03-27-17



IceColdBeer: Pacquiao, great Pinoy boxer; Duterte, great Pinoy president, 10:45 pm, 03-27-17



rizalincarnate: Pacquiao, great Pinoy boxer; Duterte, great Pinoy president, 10:41 pm, 03-27-17



KIEZERKENT: Pacquiao, great Pinoy boxer; Duterte, great Pinoy president, 9:58 pm, 03-27-17



Rodrigo Roxas III: Pacquiao, great Pinoy boxer; Duterte, great Pinoy president, 9:37 pm, 03-27-17



IceColdBeer: Pacquiao, great Pinoy boxer; Duterte, great Pinoy president, 9:36 pm, 03-27-17



Rodrigo Roxas III: Pacquiao, great Pinoy boxer; Duterte, great Pinoy president, 9:25 pm, 03-27-17



KIEZERKENT: Pacquiao, great Pinoy boxer; Duterte, great Pinoy president, 9:22 pm, 03-27-17



Rodrigo Roxas III: Pacquiao, great Pinoy boxer; Duterte, great Pinoy president, 8:48 pm, 03-27-17



Emmanuel53: Pacquiao, great Pinoy boxer; Duterte, great Pinoy president, 8:32 pm, 03-27-17



Indomitable_Soldier: Pacquiao, No. 1 P4P fighter?, 8:29 pm, 03-27-17



phillyboxing: Struggling to 1,000 words by watching Golovkin-Jacobs with t, 8:28 pm, 03-27-17



Emmanuel53: Pacquiao, great Pinoy boxer; Duterte, great Pinoy president, 8:17 pm, 03-27-17